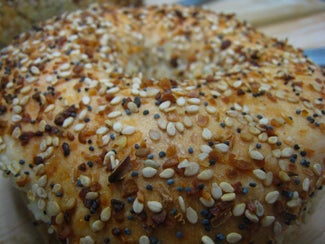 See this everything bagel? No, you can't eat it. After all, it's just on a computer screen, and that would be foolish, even for you. Although your request to take a bite right now lets me know that you, too, believe in the power of the everything bagel. So today we're going to channel that untapped energy into a multi-faceted, all-encompassing closer, which should give you everything you wanted to know about yesterday's ... HEY! Stop licking your monitor.
BASEBALL
You'll Have To Do Better Than That. The Phillies' Pedro Feliz could learn so much from Albert Pujols when it comes to injuring the guy who's throwing at you. Pujols's liner pretty much killed Chris Young, you may recall a couple days ago, but Feliz's weak little liner merely grazed the cheek of Astros closer Jose Valverde. He went down, and we thought Feliz had his first career frag. Instead, Valverde pulled a Lazarus, got right back up, and finished the inning for the save and the 4-3 victory. Hunter Pence hit a couple home runs, neither of which damaged anyone's face.
♫ Holliday Roo-ooooooooo-oooooooooo-ooooooad. With all the media speculation of whether or not WIlliam Randolph will lose his managerial job, the Mets rallied around him and took care of business in Colorado. Wouldn't it have been nice were that the case? Instead, Matt Holliday ruined the Amazins' Christmas, homering off Billy Wagner in the 9th to tie the game, then in the 13th inning he knocked in the winning run, 6-5. Furthermore, I don't mean to alarm you, but I think Fernando Tatis hit a home run in this game.
BASKETBALL
Nobody Has A Case Of Spurmania. We all knew San Antonio would bounce back from their extremely disappointing Game 1 loss with ... really? A 101-71 loss? Well, that's what it says. I say we roll with it. Even though Kobe Bryant led all scorers with 22, this was really Lamar Odom's night, who finished with 20 points, 12 rebounds, 4 blocks, and 8 blurns. Absolutely no relief came the way of Tim Duncan and Tony Parker, who only combined for 25 points, largely in part because of Manu Ginobili and his broken fingernail. Looks like the sock puppet opera on the plane flight back is out of the question.
SOFTBALL
So the softball teams are in the Super Regionals and junk. Betcha didn't know that one. Arizona beat Oklahoma 3-1, thanks to Wildcats pitcher Taryne Mowatt striking out 13 batters. Mowatt could not be reached for comment. Stupid caller ID.