Dan Shanoff writes a weekly college football column for Deadspin. Email him to let him know what you think.
The wildest — and best — college football season in modern history is down to a simple set of "ifs":
If Missouri beats Oklahoma, Mizzou will be in the national title game and no one will have a gripe.
If West Virginia beats Pitt, WVU will be in the national title game and no one (outside of Ohio) will have a gripe.
If Mizzou loses, Ohio State will be in the national title game and no one (outside of Kansas) will have a gripe.
G/O Media may get a commission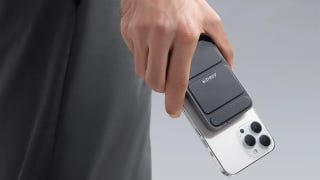 15% off
15% off Anker Top Ten Products
Take charge
Treat yourself to a portable power bank, a magnetic wireless battery for iPhones, or even a solar generator. There is a reason these are in the top ten. For instance, the Anker 747 Power Bank is a 4-in-1 charger utilizing USB-A and USB-C to be capable of charging up to four devices at once. Great to take with you when traveling and in need of keeping your phone, laptop, and even Nintendo Switch powered on.
If BOTH Missouri and West Virginia lose... well, that's just not happening.
Did you see what West Virginia did to the next-best team in their conference, when WVU realized they had to impress the nation? They hung 66 on them.
They ran up the score, because they knew they had to, in order to silence any doubt spread from, say, Columbus. Those 'Eers are one cut-throat bunch of s.o.b.'s; they ain't losing to Dave Wannstedt with a trip to the national championship game on the line.
All this clarity thanks to LSU, who a week ago I couldn't even fathom losing, losing. Not just losing, but losing at home to a 4-loss, one-man team. (Now, that one man happened to put on what I considered to be arguably the greatest individual performance in college football in the last decade. But, still: Just one guy, visiting Baton Rouge, against the No. 1 team in the country.)
Here's the thing that defies the week-in, week-out insanity of the regular season that sadly ends this coming Saturday: There is really no controversy to its conclusion.
Missouri-West Virginia? Sure, it sounds a little strange, but I'll take a championship game with two of the most exciting offenses and an over-under of 90 combined points. No debate.
West Virginia-Ohio State? Sure, OSU would back their way in, but what would be a more fitting end to this season than to see the regular season's last No. 1 team lose in the final game? No debate.
What's that? What happens when I'm totally wrong — as I was about LSU a week ago? When Mizzou and West Virginia BOTH lose? When we're left with Ohio State and a scrum between a half-dozen (barely) worthy teams that would cap what has otherwise been a blissfully anarchy-fueled season?
It all depends on which team is elevated to the No. 2 spot. They all have their flaws. For the sake of the exercise, let's project Ohio State versus...
Georgia: If you want to pick the next-best team.
BUT: Didn't even play for its conference title.
Oklahoma: If you want the team that beat No. 1.
BUT: Lost to not one but TWO unranked teams.
Kansas: If you want the next-best 1-loss team.
BUT: Didn't even play for its conference title.
LSU: If you want to give a team a 3rd chance.
BUT: Couldn't win at home when it mattered most.
USC: If you want the biggest "name" available.
BUT: Stanford. 41-point underdog. In L.A.
Florida: If you want to see Ohio State lose the game.
BUT: 3 losses?! Ha: That's ludicrous, even for me.
Hawaii: If you want the nation's only unbeaten team.
BUT: It would make a mockery of the sport.
More Notes from This Weekend: Although we should agree that Hawaii is not one of the Top 12 teams, I really like seeing a non-BCS team crash the BCS cabal ... After last week's debate over Michigan, can we all agree that Nebraska is not among the Top 5 coaching jobs in college football? ... I can't see how Texas A&M fans will be enthusiastic about Mike Sherman ... Why should the Heisman ceremony be forced to leave one of the Top 4 (McFadden, Tebow, Daniel, White) at home? Expand the invites to "However many are worthy" ... This week's "Notre Dame should have hired": Sylvester Croom ...
Bowl Clusterf*** Series Update: Who will get the coveted (and lucrative) "at-large" BCS bowl invites? If Hawaii can beat Washington, they are a lock for an invite through the non-BCS "Top 12" clause. Meanwhile, if Ohio State DOES go to the national-title game, will the Rose Bowl have the moxie to pick Illinois as the replacement, maintaining the integrity of the Rose's traditional "Pac-10/Big Ten" orientation?
This Week's Bandwagon: Defending conference-title games. Sure, they can wreck your chances at playing for the national title at the last minute (see Missouri if they lose to Oklahoma), but here is the flip side:
If Ohio State was playing in a Big Ten championship game this coming weekend, even in a down year for the conference, they wouldn't have to scoreboard-watch from home, trading in "scarlet and grey" for "crimson and cream." They likely would have given both West Virginia and Missouri a legit challenge.
Sure, if Missouri loses and Ohio State backs into a national-title appearance, it seems like a winning strategy to have their season end two weeks before everyone else. But, otherwise, it's a lost opportunity for Ohio State and the Big Ten.
This Week's BlogPoll Ballot Top 10
1. Missouri
Admit you NEVER saw this coming.
2. West Virginia
Pat White is Tebow's "Mini-Me."
3. Ohio State
Dropping the "S" to root for OU.
4. Kansas
KU could beat the Buckeyes, I think.
5. Georgia
SEC's best not playing for SEC title.
6. LSU
Fool me twice: Shame on me.
7. Virginia Tech
ACC's best? Eh: Nothing to brag about.
8. Florida
Where was this dominance in October?
9. USC
Still lost at home to Stanford.
10. Illinois
Say it: 2008 Rose Bowl.
Click here for my complete BlogPoll ballot.
This Week's Games to Watch:
Missouri vs. Oklahoma: (Big 12 C.G.) Much as I'd like to see yet another No. 1 lose, "Mizzou playing for a national title" is crazy enough, thanks.
Pick: Missouri
Pitt at West Virginia: Prep your couches early for the post-game pyrotechnics show.
Pick: West Virginia
LSU vs. Tennessee: (SEC C.G.) This went from LSU's BCS coronation to a debate whether the best team in the SEC is watching this game from home.
Pick: LSU
Virginia Tech vs. BC: (ACC C.G.) There will be no miraculous Matt Ryan comebacks this time. The BCS was the Hokies' destiny.
Pick: VT
UCLA at USC: Somehow, I think that USC won't choke away this game like they did a year ago. Too bad it's only for a Rose invite.
Pick: USC
Ohio State vs... (Big Ten Championship Game)
Nevermind.
As usual, send any comments or questions to danshanoff-[at]-gmail-[dot]-com.