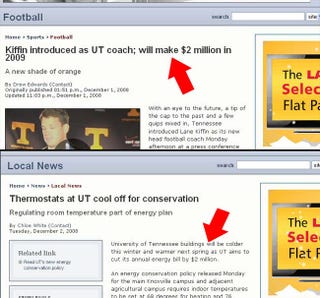 The effects of the recession are being felt everywhere, even at universities with big-time football programs. In Monday's online edition of the Knoxville News Sentinel, it was reported that new Tennessee head coach Lane Kiffin will make $2 million next season. Then, in the local news section the following day, well, just take a look at the accompanying graphic. Hey, the money has to come from somewhere.
From Monday's Knoxville News Sentinel:
Kiffin signed a memorandum of understanding Sunday morning, which included several items that will be included in his finished contract: Kiffin's deal runs through 2014 and averages $2.375 million over the six-year deal. He will earn $2 million this season.
From Tuesday's Knoxville News Sentinel:
University of Tennessee buildings will be colder this winter and warmer next spring as UT aims to cut its annual energy bill by $2 million. An energy conservation policy released Monday for the main Knoxville campus and adjacent agricultural campus requires indoor temperatures to be set at 68 degrees for heating and 76 degrees for cooling.
As tipster Dave Chomas said: "A little too ironic."
But at least this means that Smokey will not have to be sold for perfume testing.
Kiffin Introduced As UT Coach; Will Make $2 million In 2009 [Knoxville News Sentinel]