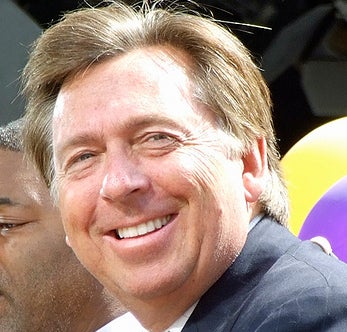 Fox Sports West's Bill Macdonald has been a popular LA-based broadcaster for more than 20 years. Unfortunately, Halos Heaven ran some photos of him getting cozy with a young woman outside of Angels Stadium.
As you can tell, the woman in this photo appears to be considerably younger than the 50-year-old Macdonald, which prompted some of the commenters on HH to question their hometown announcer's professionalism and, well, if he's a sexual deviant. But fear not Angels fans — Macdonald isn't getting To Catch A Predator'd anytime soon, nor will he lose his job because of this relationship. I contacted LA-writer Tom Hoffarth, author of Farther Off The Wall, and asked him about the photos. Hoffarth said that he would call Macdonald (they're friendly) to ask him about it, but he did say that it's highly unlikely that Bill was roaming around Angels Stadium picking up young girls. Sort of. This is what Macdonald told Hoffarth over the phone:
"Yes, we're dating. Yes, she looks 12, but she's 23. I'm not doing anything illegal. The Angels have no problem with it."
And there you go. What was once perceived as something embarrassing and wrong is now just your typical May-December romance between a high-profile Los Angeles sportscaster and a 23-year-old woman. The real person to feel sorry for in this situation appears to be the woman's friend, who just can't find enough people to text message in order to avoid their gross public displays of affection.

Bill Macdonald - Panther [Halos Heaven]