There's an episode of Seinfeld where Jerry is "Even Steven"—he can't gain or lose anything. When a gig cancels on him, he immediately gets a call for a new one on the same weekend. When Elaine throws a $20 bill out the window, he finds another one in his jacket. He's equally lucky and unlucky. He always breaks even.
There might be no better way to describe Matthew Stafford's tenure on the Lions, a team that is exactly 48-48 in Stafford's six full seasons, plus three first-round playoff losses. The team's starting quarterback is nothing if not consistent, rarely pulling off an upset win yet almost never losing to a team it ought to beat. His Lions are regularly average. They are usually relevant but never extremely so. You can call him Even Stafford, and he's a fitting focal point for a team that, over his career, has climbed out of the dumpster and into occasional contention but has never been a real threat.
But Detroit just bet that Stafford can still be so much more, giving him a contract that fully guarantees $60.5 million and, by some measures, makes him the highest-paid player of all time. (Technically he will be, but in terms of AAV as a percentage of the salary cap at the time of signing, Stafford's still trails Joe Flacco's 2013 deal, among others.) In doing so, the Lions' front office has tied the future of the franchise to a man who holds an ominous 5-46 record against winning teams, but still has a chance to improve.
The quintessential Matt Stafford game might be last year's Week 14 against the Bears, in which the Lions entered the fourth quarter leading 13-10. The opening drive of the quarter ended when Stafford threw an (admittedly deflected) interception in the end zone, and the lead was surrendered on the Lions' next drive when Stafford threw an easy pick-six.
But Stafford bounced back, leading his team down the field for a penalty-assisted drive that concluded with a game-winning QB scramble for a Lions' touchdown. It was Stafford's eighth fourth-quarter comeback of the season and fifth win in a row, but also the team's last of the year, as Stafford and the Lions went on to lose four straight, including a decisive playoff loss to Seattle.
---
When thinking about Stafford, maybe you remember the interceptions, or maybe you remember the final heroics. Everyone will agree, though, that in a vacuum, he doesn't deserve to be "the highest-paid player in NFL history" or anything close to it. He's better than most, but clearly still trying to break out of the second tier of starting QBs.

G/O Media may get a commission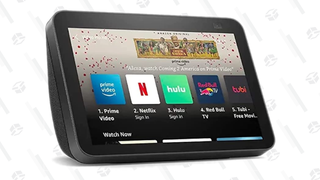 But there was never even a flicker of a doubt that the Lions wouldn't give Stafford a massive contract. A team is usually only as good or as bad as its quarterback, and if you have a passable one, there's no way you risk losing him and ending up with Brock Osweiler. Compared to some of the other guys that NFL teams have to trot out, Stafford's worth his weight in gold, and the Lions are treating him as such. Here's the single best argument for locking up Stafford:
In a worst-case scenario, Detroit is doing a high-level version of Bortles-ing—settling for the best available option because finding a better quarterback is difficult. Stafford regularly puts up gaudy numbers through high-volume passing, but until he and his team can improve on that 5-46 albatross, the Lions will be stuck in their current purgatory—better than half the NFL, yet nowhere near championship contention.
In a best-case scenario, however, the 29-year-old Stafford is the next Matt Ryan, a consistently solid starter who broke out to win MVP in his ninth season. That outcome still feels like a real possibility, with the flashes of brilliance, versatility, and athleticism Stafford has shown through his career, but the window is closing fast. While a 10-6 regular season, plus some good luck, can be enough to get to the Super Bowl, most QBs don't suddenly figure things out on the wrong side of 30.
This is yet another season where the Lions project to about 8-8, with just a little bit of over- or underachievement determining whether 2017 will be a success or a failure. Stafford still lacks an all-world weapon like Calvin Johnson, who retired after 2015 when he didn't see a winning future in Detroit, but with the solid play of Golden Tate and a faster-paced, more conservative approach, Stafford didn't miss a beat. His offensive line, however, took a hit this offseason with an injury to Taylor Decker, and while the newly acquired TJ Lang, Ricky Wagner, and Greg Robinson will all look to pick up slack, Stafford's protection is an important question that needs to be answered early this year.
The Matt Stafford era has been a qualified success—going from the worst team of all time to anything represents a massive improvement, and any Detroit fan from 10 years ago would have killed for just semi-regular playoff appearances. But being wild-card fodder isn't enough, not for what Detroit is committing to Stafford for the next three or four years. If Stafford wants to have any kind of legacy beyond "pretty good," now is the time for a big surprise.