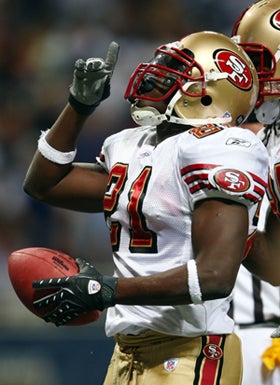 It's no BDD Jamboroo, but let's take a look at today's one o'clock NFL games anyway ...
San Francisco at Pittsburgh, FOX
The Niners aim to start the season 3-0 for the first time since NASA sent a group of blue-collar deep-core drillers to deflect an asteroid on a collision course with Earth.
Arizona at Baltimore, FOX
The Buzzsaw That Is The Arizona Cardinals were good in the NFC West last season, but struggled with out-of-division games. This is one of them. Watch them struggle.
San Diego at Green Bay, CBS
It's 71°F and fair at Lambeau Field today. The Chargers are screwed.
St. Louis at Tampa Bay, FOX
Must win game for the Rams this afternoon. A loss would drop them to 0-3, with all three defeats against NFC teams. Not good. And oh, Steven Jackson, is today the today, kid?
Detroit at Philadelphia, FOX
If I had to bet on one game that'll end in a tie today, this would be it. The overall series is 12-12-2. Creepy!
Miami at New Jersey, CBS
The Dolphins and Jets (along with the Bills) are all winless. What's that mean? Well, the winner of this game won't be the shittiest team in the AFC East.
Buffalo at New England, CBS
This one's going to be a blast. *Tightens noose*
Minnesota at Kansas City, FOX
Ah, nice. A rematch of Super Bowl IV. Finally! I'll be keeping an eye on Chiefs rookie wide receiver Dwayne Bowe who is looking more and more like a J.E. Skeets keeper. (Yes, my fantasy teams blows.)
Indianapolis at Houston, CBS
Last Christmas Eve, the Texans kicked a 48-yard field goal as time expired to beat the Colts for the first time in franchise history. Needless to say, Peyton didn't enjoy his holiday eggnog. Payback time, bitches!