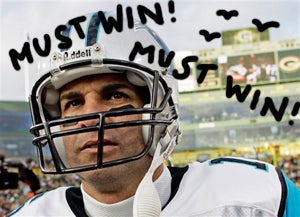 New Orleans at Carolina, FOX: Here's what I want you to do. Go grab a permanent marker. Find one? Good. Now walk over to your hi-definition television and write "MUST WIN!" all over the screen. Really fill the space. There you go. Done? You're welcome.
Buffalo at Jacksonville, CBS: "Both of these teams are hovering around .500, and both are fighting for playoff spots. That always makes for an interesting game. The team I have picked to win this game is ... the Jacksonville Jaguars. The Jaguars will remain in second place in the AFC South." That was Kige Ramsey for, well, this post.

Washington at Tampa Bay, FOX: Add some weird Buccaneers crap to your holiday decor by hanging this 5.5-in glass football player ornament on the Christmas tree. This officially licensed Jon Gruden-mouth-blown glass ornament is hand-painted and designed to look exactly like it's taking a dump on the presents below.
Seattle at St. Louis, FOX: After starting 2-6, my fantasy team, the Canada Dickriders, has somehow managed to pull off three straight victories, giving me an outside shot at making the playoffs. What does this possibly have to do with today's Hawks-Rams game? Hasselbeck, baby! Here's to hoping he keeps the dickridin' dream alive by throwing nine touchdowns today.
Minnesota at New York Giants, FOX: If Minnesota ever wins a Super Bowl, I hope they fly in Techno Viking to lead the Fuck Parade.
Oakland at Kansas City, CBS: The Raiders are last in the league against the run, and the Chiefs are the worst in the league in using the run. Yeah, fire up the Bunsen burners; this should be one of hell of an experiment.
Tennessee at Cincinnati, CBS: "Guys have been built up to think they were up to this level of player," Cats coach Marvin Lewis said earlier this week. "Well, they're finding out that maybe you're not. Maybe you need to get back to work and figure out a way to get it done." Hold on, I'm not? Or they aren't? I'm confused. I don't want to go to work on a Sunday.
Houston at Cleveland, CBS: The Texans have won two in a row and now have their best record in team history after 10 games. Um, they're 5-5. Bonus fact: The Texans are the only team in the NFL to never win a divisional championship nor finish better than 3rd place in a division.