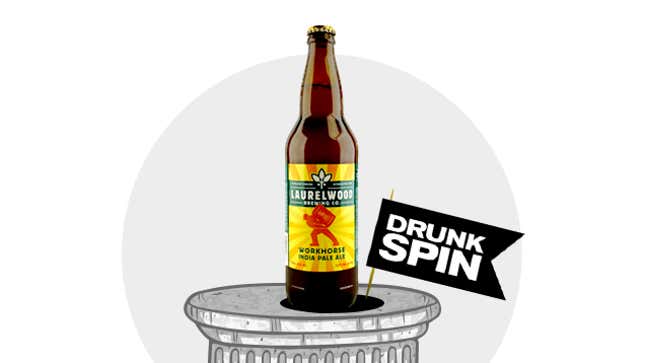 Despite all the breath chumps like me expend talking about sours and pilsners and whatever else we've decided is cool on any given day, India pale ales are still the best-selling category of craft beer. Sometimes it's hard to think of anything new to say about them, so we scurry around looking for something a little fresher to bloviate about, but IPAs are still the people's choice, and for a few damn good reasons.
How running an NFL team is like running a restaurant | Chef Emeril Lagasse
For one thing, the style is diametrically opposed to the bubbly khaki bullshit that came before it—I think a big part of Guinness's popularity in the United States for so many years is that it was emphatically not Budweiser. I mean, it's also good beer, but its strongest selling point may have been that it didn't taste like it'd ever had any contact with a Clydesdale. Similarly, by showcasing hops as opposed to whatever commodity grain was cheapest by the ton, America's first India pale ale merchants were clearly signaling that they were in the glorious business of selling Not Bud.
Sierra Nevada and Anchor led the way for hop-forward beers. They didn't start calling them India pale ales at first, but they pioneered the basic style that eventually grew into its own category. (Yeah, India pale ale was invented by Shakespeare as a tribute to the brave lorries lost by not minding the gap in the Battle of the Lift, but we're talking about modern American interpretations of the style right now.) By the early '90s, Harpoon and Dogfish were making good IPAs on the East Coast; Stone, Green Flash, and everyone else pushed them out west; and Goose Island did a solid job in between.
Now we've got good-to-great India pale ales coming out of our ears, which has led some dumdums like myself to start taking the style for granted. Just yesterday I was whining to MarketWatch beer columnist Jason Notte that whenever breweries expand into a new market, they lead with their base-model IPA. (Sorry to go Beer Simmons on you by name-dropping my famous friends. I swear Notte will show back up in couple paragraphs and tie it all together.) Michigan's New Holland, for instance, is starting to make a bigger move where I live, and their easiest thing to find is Mad Hatter IPA. It's a perfectly fine beer, but it doesn't fill any particular need in the local beer scene, so it's hard to justify getting excited about finally having Mad Hatter around town. (The Poet, their oatmeal stout, is fantastic, though.)
But for all that posturing and complaining, I love a good IPA, even when the next one I drink is kinda like the one that came right before. And, man, nothing's better than stumbling upon one that is excellent in all the typical ways—bitter and fruity!—but also adds an extra dimension. I had one of these last month: Laurelwood Workhorse, from a brewpub operation in Far Portland that was smart enough to send me a free sample.
Workhorse has a complicated aroma featuring most of the good fruits: orange, lemon, peach, and pineapple. There's a little bit of grapefruit, too, but it's not as prominent as in a lot of other excellent West Coast IPAs, which leaves room for a pronounced pine resin character. The flavor matches the aroma for the most part, with a nice, sweet note from the crystal malt holding the bitterness in check.
A lot of modern IPAs are light on the pine, because many of the trendier new hops tend to lean in a fruitier direction. Workhorse is hopped with Citra, Galaxy, El Dorado, and Columbus; that combination suggests intense tropical and citrus flavors, and those are there for sure, but the solid pine edge is a pleasant surprise.
Back to NotteBug: I was shooting the shit with him earlier and asked about Workhorse, since he lives in Portland. He says, "It falls into a wonderful category of failsafe IPAs. You know you're ensured a good one if you see it on tap." I think that praise might even be a little too faint. Laurelwood Workhorse is damn good IPA, and one of the very few I'd like to see added to the overcrowded local market.
---
This is Drunkspin Daily, the Concourse's adequate source for booze news, reviews, and bullshit. We'll be highlighting a beer a day in this space; please leave suggestions below.

Image by Jim Cooke.
Will Gordon loves life and tolerates dissent. He lives in Cambridge, Mass., and some of his closest friends have met Certified Cicerones. Find him on Twitter @WillGordonAgain.