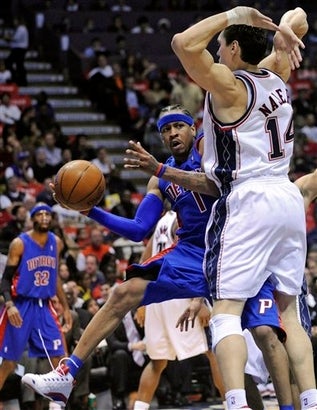 Allen Iverson is 33. As in "years old." He has five kids and a wife and, we would assume, a sense of mortality towering over what remains of his career in professional basketball. The player who unwittingly personified the perceived me-first player mentality of the post-Jordan NBA surely realizes that he only has so many games left to play, so many practices left to skip. And so Pistons GM Joe Dumars, the architect of the team-first Eastern Conference juggernaut, traded for him, banking on the hope that Iverson's mind had matured as much as his body. After a hangup with the processing of the actual trade, Dumars finally saw the fruits of his efforts last night, when Iverson made his debut in a Pistons uniform. From Yahoo! Sports:
Iverson had 24 points and six assists after finally getting to suit up. Detroit played twice since the trade Monday with Denver that sent Chauncey Billups, Antonio McDyess and Cheikh Samb to the Nuggets for the nine-time All-Star. Iverson was not available for the first game and was not permitted to play the second because Billups had not completed his physical with the Nuggets.[...] Iverson played the entire opening quarter, scoring 11 points, making all three shots from the field, including a 3-pointer, while going 4-for-4 from the free throw line as the Pistons raced to a 27-14 lead. "It was a good feeling for me," Iverson said. "I haven't been able to play for a while so it was good to get back on the basketball court. I'll try to get a little bit of my rust off."
Iverson's existence in a team-first environment will be appointment viewing this season, and arguably one of the few reasons to keep tabs on the Eastern Conference (the Celtics notwithstanding). The balance of the Pistons' schedule should indicate whether Dumars' theory on Iverson's maturity was suitable enough to be put into...practice.