Of course he does. The Magic guard will be heading a "supergroup," which is a generous term when Jonathan Clay Redick is the most famous member.
The group doesn't have a name yet — Redick mentioned "Sub-Par," "Afterthought," and "No-Profits" as possibilities — but they have their first single. Or most of it, anyway.
The chorus has been written and the first verse and the direction we're heading on the song has to deal with 'waste management,'" Redick elaborated.
The song is called, of course, "Waste Management," and he hopes to release it by the end of the year, with an album to follow. May I suggest some potential titles?
•Dukiestyle
•Get Benched Or Die Tryin'
•Please Redick Don't Miss 'em
•Fear Of A White Two-Guard
•Suckonia
•Life After Duke
•It's Dark And Orlando Is Hot
G/O Media may get a commission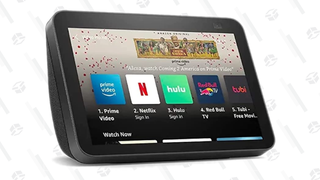 Orlando Magic's JJ Redick Releasing Rap Album [AllHipHop.com]