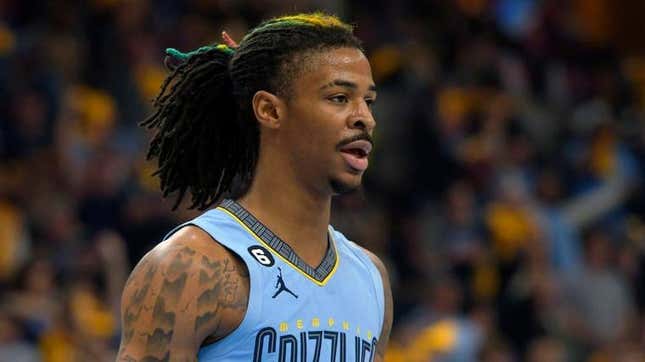 In response to a new video depicting Ja Morant showing off a firearm, the Memphis Grizzlies suspended their franchise point guard from all league activities until further notice. What a suspension means when he has the next four months off is unclear, but Morant is treading on dangerous ground. Not just because of his juvenile proclivity for posing with guns, but because it encapsulates his recklessness. Anytime he broadcasts live these days, Morant's compulsion to showcase his gun collection is at his strongest.

On Sunday, while filming on IG Live, Morant flashed a firearm just months after a series of gun-related incidents led to his suspension and likely cost him $39 million. Morant's suspension contributed to him missing out on bonuses attached to being voted to one of the three All-NBA teams. If voters had chosen Morant to an All-NBA team, his contract would have tripped the "Derrick Rose Rule," which allows rookie contract extensions to earn up to 30 percent of the salary cap, a maximum typically reserved for players with at least seven years of service.
Ja Morant flashes gun on social media AGAIN | Andy Reacts
Ja Morant flashes gun on social media AGAIN | Andy Reacts
Instead, he's inadvertently making a push for The Association's ignominious and unofficial All-NRA Team. Morant's impulse to pose with firearms, just for the sake of it, is as strong as any Second Amendment gun nut. Morant's lack of self-awareness perpetually leads to shooting himself in the foot without pulling the trigger. Kyrie Irving's conspiracy-addled brain drove him to promote anti-Semitic videos and ultimately cost him a signature sneaker deal with Nike. Ironically, Morant replaced Irving as Nike's most popular athlete. Morant's gun-toting habits haven't been enough to topple his career yet, but his brand is circling the drain.
Unforced error after unforced error
On the Grizzlies front, Morant's impulse for testing the limits of their tolerance has to be getting old. Morant can't even keep his guns at home or offline.
The most frustrating part of Morant's obsession is that he doesn't use guns for anything but trouble. Almost everywhere Morant and his entourage have gone, trouble hasn't been far behind. The teenager who accused Morant of assaulting him mentioned Morant implying he may retrieve a gun. In January, the Pacers claimed that a truck containing Morant and his friends pointed a laser-pointer firearm at their team bus following an argument between Pacers forward James Johnson, and a member of the Grizzlies point guard's entourage.
There were also reports that he threatened a mall security guard and that he brought a group to a high school gym as a response to an argument between his sister and another teen in the stands.
What was so galling about Morant's decision in March to post a video of himself in a Denver strip club on IG Live with his baby Glock is that it came on the heels of those disturbing behavior patterns. It was as if he believed he was impervious and was throwing it in the faces of everyone including the Memphis Grizzlies. His lack of self-control is concerning because it signals someone spiraling out of control. All it takes is one mistake to ruin everything. With Morant running around, pointing his guns indiscriminately, Sunday's development isn't promising.
Once he finished his self-imposed rehab related to anxiety and depression, Morant flapped his gums to Jalen Rose about ruining his own opportunities to earn generational wealth, and about his brand. At the time, I was skeptical about his bare-bones, scripted answers to Jalen Rose, which were probably written to him by some PR spin hack.
Now we know all that contrition was either phony or his issues with guns, anxiety, and depression are more pervasive, and than we thought. If the latter is true, Morant is self-destructing because he can't help himself. The Grizzlies will take him back at some point. An offseason suspension lacks any teeth, but Morant's meeting with Adam Silver after leaving "rehab" in June means it's likely the commissioner will get involved.
Follow DJ Dunson on Twitter: @cerebralsportex