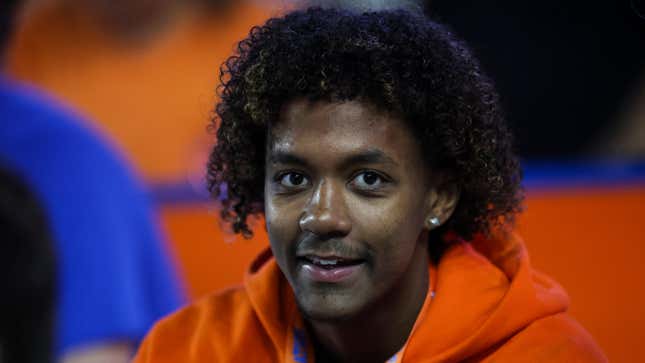 Sports is one of the few industries in which a person's salary is public knowledge. It's how we know what Nick Saban, Jim Harbaugh, and Brian Kelly are making. But in the case of former University of Miami, University of Florida, and now Arizona State-commit Jaden Rashada, a quarterback prospect that was once on the verge of receiving $9.5 million and $13.85 million NIL deals at two different schools, we've reached the point to where player "contracts" may be on the verge of resembling coaching contracts.

An unjust system that's made billions off the back of unpaid players for decades is evolving into a place where some of the oppressed are experiencing financial freedom.

And if you have a problem with that, then it says so much about you — not them.

The details of Rashad's failed NIL deals are mind-blowing
According to recent reports, the details of Rashada's failed NIL deal with the Gator Collective have been released. And if things would have played out — he would have gotten PAID! The former Gators recruit was set to make $500,000 upfront, similar to a signing bonus that pros and coaches receive all the time. He was then set to make $250,000 per month as a freshman, $291,666.66 per month during his sophomore season, $375,000 monthly as a junior, and $195, 833.33 every 30 days his senior year. To earn that money, Rashada was going to be required to do monthly Twitter and Instagram branded posts, reside in Gainesville, do eight fan engagement events annually, and autograph 15 pieces per year.

Mind you, this was after the deal he reportedly had at Miami that would have paid him close to $10 million.
Check this out from a report by The Athletic:
"That $13.85 million figure exceeded the highest known number for a college player and is barely less than Pittsburgh Steelers first-round quarterback Kenny Pickett's rookie contract ($14.1 million over four years).

"Then, in mid-January, Rashada did not enroll at Florida as expected. The Gator Collective had reneged on its deal in early December, two days after the initial payment was due, and on Jan. 17 the quarterback was granted a release from his letter of intent. Rashada, once seemingly poised to benefit greatly from a perceived bidding war between Miami and Florida boosters, was suddenly without a school and without NIL dollars."
How is Rashada any different from coaches who get paid?
If you've reached this part of the story you probably feel one of two ways. Happy that the kid and his family were about to get life-changing money for playing in a system that shells out billions to everyone but the players. Or, you're enraged at the idea of "pay for play" and think that NIL has gotten out of hand. If you're thinking lines up more with the latter than the former, I have a few questions for you.

• Were you this perturbed when it was recently announced that Brian Ferentz — Iowa's offensive coordinator/quarterbacks coach — just got an amended contract based on incentives that include winning at least seven games and averaging 25 points per game?

• Did you get pissed off when the Big Ten signed a new media rights deal with Fox, CBS, and NBC that will pay the conference $7 billion over seven years, in which the athletes won't get any?

• And were you angry every time a big-named college football coach signed a huge contract filled with incentives? For context, here's a list Bleacher Report put together outlining the deals, as it includes Saban, Kelly, Mel Tucker, Jimbo Fisher, Dabo Swinney, and James Franklin.
The answer to those questions is "no," because besides the, "wait, how much is that guy making?" questions that we ask when new contracts are signed, no one cares when coaches get paid for games they don't actually play in. However, since the inception of NIL, people have gone out of their way to snitch on themselves by showing just how much they quietly enjoy this injustice system we call "amateurism" and take issue with an unpaid labor force receiving some sort of compensation in a capitalistic society.
Ironically enough, last year Miami was connected to another NIL situation that had people upset. Star Hurricanes guard Isaiah Wong became the scapegoat after it was alleged that he would transfer to another school if his NIL deal wasn't renegotiated after he had outperformed it, and watched as a new teammate who was transferring into the program was set to make significantly more than him.

Wong got crucified when he should have been championed as a pioneer.

In 2014, Dabo Swinney once infamously said that he'd quit if players started getting paid. When NIL began on July 1, 2021 — Swinney didn't resign. In December, Clemson's head coach claimed that his program had been built in "God's name, image, and likeness."

That's blasphemous, and God don't like ugly. Or the fact that the people who are mad that college athletes are finally getting millions above the table is a plantation-like mentality to have. Being pissed off at Jaden Rashada is pointless. Be upset with the fact that he's even in this situation, to begin with.