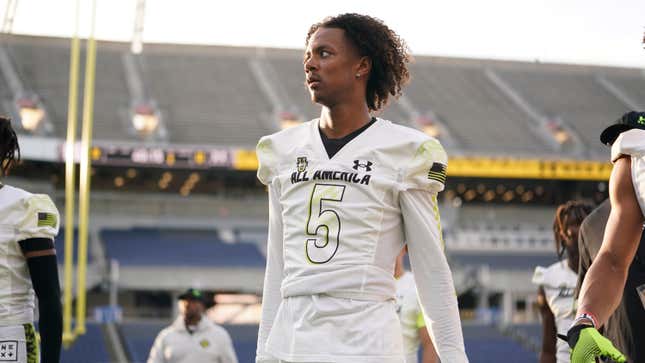 It's always funny to me when a sportswriter says LeBron James or Steph Curry would be worth double or triple on the free market. While that may be true, that's not reality. The salary cap is the reality, and they'll have to accept the $40 million salary they're currently earning. The same goes for Florida QB recruit Jaden Rashada, who was quoted $13 million in NIL deals by a collective in Gainesville. The reality was much less, and now Rashada has asked to be released from his scholarship.

Who will take down #1 South Carolina in the NCAA tournament?
Updated: Friday, Jan. 20 at 1:32 p.m.: Florida released Rashada from his national letter of intent, according to ESPN, citing a source. State law forbids Florida universities from providing or arranging NIL compensation.
This is more or less chaos as usual in the era of NIL deals. We think they're this huge boon for recruiters and unpaid student-athletes. It's just not as lucrative as you'd think. Former Alabama quarterback Bryce Young allegedly made $800,000 in NIL deals before even taking a snap for the Tide, and that'd make me extremely leery if I was Rashada. The Heisman winner didn't clear seven figures when he was in Rashada's position, so alarms should've gone off when some figurehead at the UF collective threw out that absurd number.
Who told him $13 million? Joe Burrow doesn't even make that on his rookie deal with the Cincinnati Bengals, and he's been to a Super Bowl. There's no way in hell — or central Florida — that a high school recruit whose last name isn't Manning is showing up on campus and getting an eight-figure NIL deal.
Speaking of Arch Manning, his NIL valuation was put at $3.5 million, according to reports, and that's another red flag for Rashada. There are No. 1 overall recruits, and then there are Mannings, and even though the latter wasn't the top prospect in his class, he's got enough name recognition and family connections to show up in a Caesars Sportsbook ad alongside his uncles. (Though Arch is still a few years away from being able to legally show up at a casino.)
It's like when my girlfriend Googled a few of my baseball cards, and the internet told her they were worth thousands. I wish there was a payoff for lugging those around to four different states, but alas, it was not meant to be.
So what are Florida's options under center?
The Gators are now in the unenviable position of scrambling for a starting QB. Rashada was the highest-ranked player in Florida's 2023 recruiting class, and now it'll be up to whoever wins the battle between Wisconsin transfer Graham Mertz, Ohio State transfer Jack Miller, and sophomore Max Brown. Mertz made Badgers fans' eyes bleed for years in Madison, and the other two haven't seen a ton of snaps.
There have been rumors of Florida turning to the transfer portal, but most of the viable options have already picked a new school, and the official NCAA transfer window closed today. Rashada is sure to get more than enough hate messages for a decision that was the result of a collective failing to deliver on a promise.
So Florida fans, please, think before you inundate an 18-year-old with grievances and insults because he's not entirely to blame.
Who's the leader to land Rashada?
Prior to committing to Florida, the No. 6 quarterback recruit in the country appeared to be on his way to Coral Gables and the University of Miami, and it looks like that's where he could ultimately end up. Current 'Canes QB Tyler Van Dyke took a step back this season under new head coach Mario Cristobal, but he remains with the team.
However, the U's other QB who saw playing time in 2022, Jake Garcia, entered the transfer portal this week, and considering how shaky Van Dyke was last year, the competition for the starting spot is likely wide open. Honestly, I wouldn't be surprised if Garcia's decision was a direct response to Rashada asking out of his scholarship.
No word on how much Rashada is worth on the NIL market in South Florida, but hopefully he'll be a tad more skeptical the next time a collective comes to him with a massive valuation.