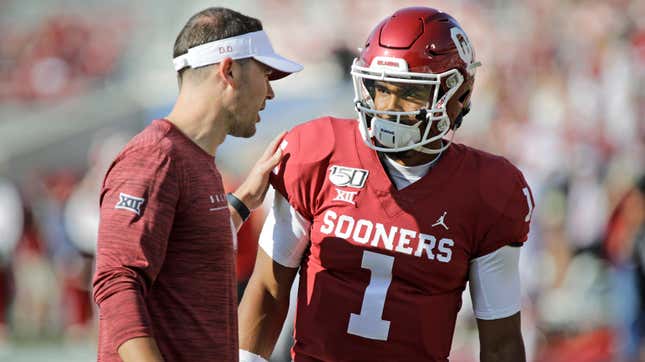 We need a ruling on which campus gets to claim which player now that college players are transferring at a record rate. Is it where the player finishes his career? So much about being a college football fan is about measuring your program against everybody else, and one of the ways we do that is by pointing to all of the alumni in the NFL. I saw some Tuscaloosa columnist write a pro-Jalen Hurts column, and almost did a spit take.
I'm making a ruling now: Unless a player finishes his career at your school, you don't get to claim him. Sorry NC State fans and Virginia Tech supporters.
There are so many reasons why Alabama fans don't get to take credit for Hurts. None of them will take away from his time there. Those ravenous fans rooted for him, and he accomplished a lot in crimson and white.
All that said: Where does the greed end?
You can't spell excess without S-E-C
How many national titles and Heisman trophy winners will be enough? Tide fans stroll into any conversation so happy with themselves that they can't help but pull out their large trophy case and flop it on the table. It's a wonder why they put on pants at all.
DeVonta Smith is already on the Eagles. Alabama is represented. Stop jumping on Hurts' jock just because Tua Tagovailoa and Mac Jones aren't future Hall of Famers. Nick Saban picked Tua over Jalen, and even though Saban told Hurts to take the OU job, Hurts was regressing under the Tide's coaching staff.
Lincoln Riley saved Hurts career, not Saban's altruism
Alabama's calling card has always been defense. Saban eventually figured out the offensive revolution through high-grade O-coordinators, but the Tide used to lean on the ground game a lot more than they currently do. There was a whole host of game managers before Hurts — your AJ McCarrons and Greg McIlroys — and that's more or less how the future Super Bowl quarterback was asked to operate at Alabama.
Bama fans look back fondly on Hurts because he was gracious when Tagovailoa took over QB1 duties, but Tua's greatness wasn't the only reason supporters so readily moved on from Hurts. A year after throwing for 2,700 yards and 23 touchdowns as a freshman, Hurts barely broke the 2,000-yard mark as a sophomore and never threw the ball more than 24 times in a game.
He attempted 23 passes in his first game as a Sooner, and went on to amass 3,800 yards in the air and another 1,200 on the ground for 53 total scores (32 passing, 20 rushing, one receiving). He finished second in the Heisman voting in his one lone season at Oklahoma, and probably would've been Lincoln Riley's fourth protege to win it if not for Joe Burrow's insane senior year at LSU.
Sooner fans don't have a lot — give them this
Oklahoma just had its first sub-.500 season since John Blake was the coach, Brent Venablers can't find his defensive magic in his pleats, and their last coach-QB combo won a Heisman and came an injured hammy away from the College Football Playoff. (Honestly, I don't feel bad for the OU faithful. They've had a great run in recent years. But I loathe Alabama, so whatever strengthens my argument.)
The SEC is about to merge with OU's trophy case anyway, so Hurts will be a conference brand as long as he's in the NFL. And that looks to be a long, long time.
Maybe even long enough for me to stop hating Alabama, though I doubt it.