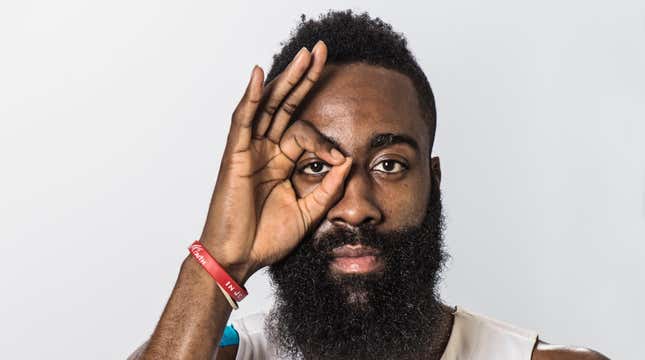 James Harden's China trip may wind up being one of the most monumental offseason moments of the year. He's running around China complaining about his contract, throwing Daryl Morey's name out there as red meat to a ravenous audience eager to villainize his boss, and selling his alcohol brand more feverishly than Conor McGregor.
Whining or Wine-ing? James Harden vs Daryl Morey | Agree to Disagree
Two days after throwing Morey under the bus at an Adidas event on Monday, Harden joined a stream with Chinese influencer Xiao Yang, who flexed the country's devotion to hoops culture. During the stream, Harden mentioned he usually sold a few cases a day of his J-Harden Wines. In response, Yang asked Harden to make a pitch for viewers.
Yang quickly informed Harden that the wine had sold out. Understandably, Harden was in such disbelief that he had to check for himself. After confirming the sold-out inventory, Harden cartwheeled in celebration.
QVC has nothing on China's social media fervor, and it makes sense that he'd be so easily embraced. Chinese Gen Z is extremely online, partially by design, and the country's basketball audience is one of the world's largest. It also helps that Harden spent a decade of his prime on a Rockets franchise that ingratiated itself to the country after drafting Yao Ming No. 1 overall, even if the national hero was unable to restore Houston to championship glory.
Bless his heart, though — Harden is singularly focused on making business moves this summer. Wine and spirits for pro athletes is as much of a come-up as a cosmetics brand or a sports drink investment. Nobody's mad at him. Go get your bread. Doing so at the expense of teammates and a longtime work relationship via personal attacks is the corniest thing he's ever done.
Harden operating as a proxy for the Chinese state in an influence campaign against Morey is a development that sounds like something out of an Enes Kanter fantasy, and you can be sure Kanter will run with it as soon as his 15 minutes of airtime as an anti-trans hack are over.
Overall, The Beard looks like he's really enjoying himself during his tour through China. He's comfortable, maybe too comfortable, doing something called the Ting Ting Tang Tang and trying to get his fledgling J-Harden Wines off the ground.
But if you told me there was a superstar who would end up taking a Cristiano Ronaldo-caliber deal to play in the Saudi League or China, it would be Harden. Few things make him more joyous than chucking up an endless stream of shots and giving defenders melatonin while he dribbles out the shot clock, but he won't be given that type of heliocentric role in the NBA anymore.
Unfortunately, remaining in China to end his career isn't an option for now. Harden is already under contract for another season with the Philadelphia 76ers after opting back in this summer, and hoisting 75 shots a night with the Guangdong Tigers would be a breach of his contract. That's a headache he doesn't need. Eventually Harden will have to come home, descend from the emotional highs of this week, and face the front office he's been badmouthing. But for now, you can throw growing his brands and feuding with front offices onto the pile of things Harden is more passionate about than grinding for a championship.
Follow DJ Dunson on Twitter: @cerebralsportex