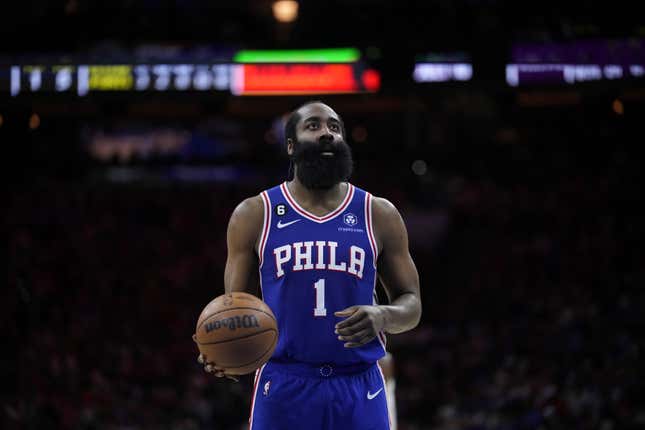 When Daryl Morey says he's not going to be irrational with a James Harden trade, he is to be trusted. We saw what happened with Ben Simmons, and the plain-clothes staring contest that resulted in Harden becoming a Philadelphia 76er. It was an arduous ordeal that festered until mid-February 2022, and the roster turnover arguably upended Joel Embiid's push for MVP.
Embiid, Harden, and Brooks' VERY personal fouls in the NBA Playoffs | Andy Reacts
That can't happen again, because Embiid has already won his MVP, and the Sixers don't have another year to throw away. Playing coy, and holding out until halfway through the season — when the team should be rounding into form, not building cohesion — only continues this tradition of upheaval that's largely defined the late-stage Process.
First, here's what Morey told 97.5 The Fanatic on Tuesday (via PhillyVoice).
"Right now, unfortunately, he does prefer to be somewhere else," Morey said. "I do have a long relationship with him, and I am attempting to honor that. But the reality is if we do look at a trade, it will be for one of two things. It's either going to be for a player who helps us be right there like we were last year. Up 3-2 on one of the best teams in the East, the Celtics. Obviously, we didn't get it done, but James was a big part of why we got it to 3-2. Or we are going to do something where we get enough draft picks or things like that in a deal, such that we can then turn those into a player who can be a running mate with Joel.
"If we don't get either a very good player or something we can turn into a very good player, then we're just not going to do it. If James were to turn his mind around, we would all be thrilled. You've heard Joel's comments about that. But at this moment he prefers to be traded, and we are attempting to honor that."
It's public knowledge that Morey only wants superstars, at least two of them, and while that's a nice thought, there's not another former MVP available in a straight-up swap. The Portland Trail Blazers certainly don't want Harden in return for Damian Lillard, and the usual list of allegedly disgruntled stars is short at the moment with Bradley Beal now in Phoenix.
Also, the book is out on Harden, and this is a certifiable pipedream compared to the Simmons saga, because Simmons didn't play after his trade request, and there was a certain level of optimism that, at 26, he's not washed. No one is going to give up real assets for Harden after he had an Allen Iverson-ian reaction (albeit somewhat delayed) to playing second fiddle, and if someone does become available, the Sixers won't be the team with the best available offer.
Having said all that, Philly is in a precarious position, and has to appease Embiid before he joins the aforementioned list of allegedly disgruntled stars.
Or do they?
Morey has one of the best eyes for role players of any GM that I can remember. He's always pulling gems out of the misfit toy box, so imagine what he can get when he has real capital at his fingertips. Trade Harden for a premium set of glue guys; I'm talking veterans who don't have a goddamn future. That's right. We can make shit real uncomfortable around here, and that's what we're going to do. 
Yes, I know that's hustling backward, as we've seen Embiid with a primo supporting cast, and no real Robin. However, the 2021-22 Philly team, prior to Harden joining in February, was the most comfortable I've seen the Cameroonian, and I was really interested in how it would've played out sans Beard.
Best case scenario is probably an MVP and perhaps an Eastern Conference Finals appearance, which isn't a title, but they lost in the second round the past two postseasons anyway, and it's essentially a moot point.
I want to see Embiid in a situation where he can't defer, yet if he does have to pass out of a double team, there's an array of quality, grizzled role players ready to shoot or make a play. Who knows what kind of effect added responsibility would have on Tyrese Maxey, and I don't think he's reached his potential yet. Could he be a poor man's Jamal Murray? It's a better bet than whatever star on the wrong side of 30 Harden is going to fetch
Focus on stability
The organization didn't really tinker at all this past season, which is kind of an outlier. Philly has had tradable pieces for years due to the stockpile of assets Sam Hinke acquired, and the core around Embiid has been in flux whether it was Jimmy Butler, Tobias Harris, Simmons, or Harden.
I'm not going to go full Hoosiers here because we've seen teams gel in a season or two, and there are not enough chest passes in the world that are going to offset talent gaps at the top. Also, in no way am I making more excuses for Embiid. (If Nikola Jokić can get in shape, any center can.)
The allure of a trade, or a better possible running mate, are simply more reasons to deflect responsibility. Very few, if any, MVPs have been able to win a championship without being the best player on the floor, and Embiid needs to have that illusion wiped from his mind as soon as possible.
If Joel Embiid goes into training camp knowing backup isn't coming, and it's on him to score, rebound, facilitate, and stay on the floor, we'll see how badly he wants the accountability that comes with his talent.