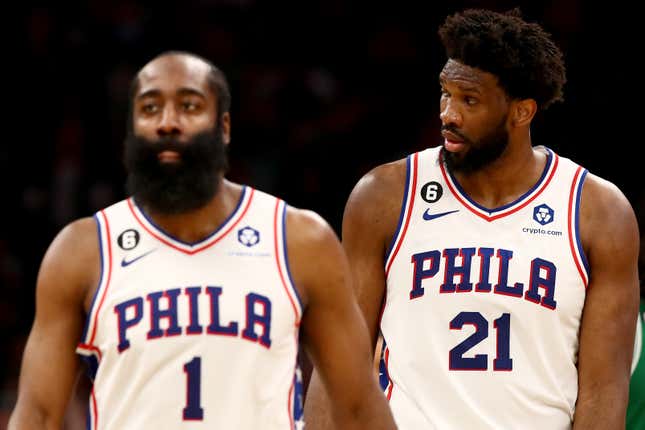 The James Harden-Philadelphia 76ers soap opera is becoming the biggest NBA storyline of the summer that looks like it'll carry over into the 2023-24 regular season. Now, Harden's agent, Troy Payne, is trying to sell folks on the prospects of James climbing back up the mountain to league MVP status.

Embiid, Harden, and Brooks' VERY personal fouls in the NBA Playoffs | Andy Reacts
That's high praise Payne lavishes upon Harden, which he should, as his agent. But it's hard to believe that too many people who follow the Association closely are buying what Troy is selling, even at a discount. Harden won his first and only MVP award five years ago in 2018, at age 28. Now we're supposed to believe he's ready to bounce back and win his second MVP six years later at nearly 35?
Talk about shenanigans and propaganda. This was nothing more than a commercial meant to sell teams on the idea of approaching the Sixers to trade for Harden. The place Harden would love to land, Houston, apparently wants nothing more to do with him. That's what Stephen A. Smith said in June on an episode of "First Take."
"First of all, Houston doesn't want him. Let's be very, very clear about that. Ime Udoka and their staff, they do not want James Harden," Smith said. "They're moving in a different direction, and they don't think that he's that fit."
So, a reunion in Houston seems out of the question for Harden. It's a strange situation on all fronts that's been made more difficult after Harden called Daryl Morey a liar last week while on an Adidas tour of China. Of course, anyone paying attention to the NBA over the past few years knows about Morey's beef with China. So, that was quite the strategy implemented by Harden and his team.
Some might ask why Harden would want to skip out on playing alongside current MVP Joel Embid. Hall of Fame sharpshooter and NBA on TNT analyst Reggie Miller is one of those people wondering precisely that.
"Joel Embiid was the MVP last year, correct? Miller asked. Have you ever heard of someone not wanting to play with an MVP? How could someone want out from playing against the reigning MVP?"
Not that Harden wants to leave because of Embiid, but he is likely on his way out because of Embiid, isn't he?
Let James cook. That's what he really wants, especially after hearing that MVP rhetoric from his agent. There is no known beef publicly between the two stars in Philly, but it's tough for Harden to get deep into his offensive bag the way this 76ers team is constructed. Everything goes through Embiid, which it should. He's the franchise player at this time. Obviously, that isn't working, Harden.
In Harden's mind, it's time to fly solo again and put up a bunch of empty stats that won't yield many wins with him as the No. 1 option. That's what this sounds like – the sell job Payne did seems to confirm that notion. The Beard wants to be The Man again. Playing the sidekick role on camera doesn't appease Harden. He's tried it for the past few years in hopes of winning championships and it has yet to work out. Now it's time to go for what he knows. Dribble, dribble, dribble, dribble, dribble….flop, basket, and one. That's the only winning formula James Harden knows.