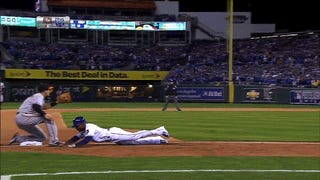 Jarrod Dyson said he believes Orioles 3B Ryan Flaherty deliberately "put a knee down" on him on a pickoff attempt last night, as retaliation for his earlier comments that this ALCS would be a short one.
After Game 2, Dyson was asked if he thought the series would return to Baltimore. "No sir, I don't," he replied. "And I don't think they think that, either."
Fast-forward to last night. Dyson was inserted as a pinch-runner in the sixth inning, and found himself diving back to third base on a pickoff attempt.
"He put the knee down. But I ain't worried about it," Dyson told CBSSports.com long after the Royals' 2-1 victory gave them a 3-0 lead over the Orioles in the ALCS and made it a likelihood that Dyson's controversial statement will be proven correct.

Flaherty couldn't be reached afterward, as the Orioles clubhouse was closed by the time Dyson was done addressing the alleged knee drop. But Dyson took no real issue with it.

"If I'm not hurt, I'm good," said Dyson, who said he was indeed fine. "It's baseball, it's all good. I'm not upset. We're just trying to see them come back tomorrow to get rid of 'em."
The video is...inconclusive. It certainly looks a lot worse in this photo:
Dyson would score the eventual winning run on a sac fly. Afterward, he didn't have much to say about Flaherty, but instead blamed reporters for making too big a deal over his earlier remark.
"You all blew it up bigger than it was," Dyson told the media, "but that's all right. It's cool. I said what I said because we're playing great baseball and I got confidence in this group. I feel like we're playing great baseball and nobody can stop us right now."