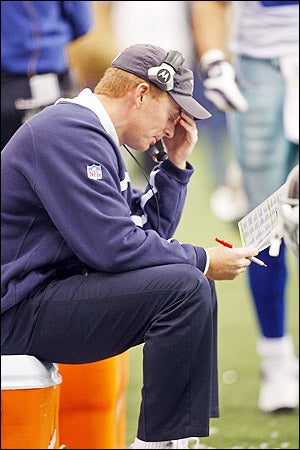 Jason Garrett was considered the ginger-haired offensive genius, primed and ready for any and all head coaching positions — especially the one in Dallas.
The Cowboys hedged and locked up Garrett with an expensive three-year contract last season, making him the highest paid assistant in the league, and most assumed he'd be the next coach after Wade Phillips was finished doddering around the sidelines.
Perhaps sensing the impending backlash, Garrett has changed his tune a little bit and is talking to the dreadful Lions. But why would Garrett even entertain this overture after turning down interviews for the Ravens and Falcons job last season? For one thing, the Lions job has become much more appealing thanks in part to their 0-16 record and also that ridiculous Roy Williams deal the Cowboys made. Consider this set up:
But the Lions will have one heck of a young offensive core to build around. Figure they'll draft the franchise QB, either Highland Park's Matthew Stafford or Heisman Trophy winner Sam Bradford, with the first overall pick. They grabbed RB Kevin Smith, who rushed for 976 yards and eight TDs as a rookie, in the third round last draft. And 23-year-old Calvin Johnson, who caught 78 passes for 1,331 yards and 12 TDs this season, has Hall of Fame potential.
Progress is imminent. If anything, this magnifies how significant the Cowboys collapse was this year: In two days, the Detroit Lions head coaching job has become much more appealing than the one for America's Team.