After a lot of weekend buzz involving real estate listings and veiled threats, it appears that Denver's glorious Jay Cutler Era is officially over.
Things started to get suspicious on Thursday when the disgruntled Broncos quarterback put his $2 million home up for sale. That's usually what you do when you no longer want to live in a place, but maybe he just wanted to move into a tent up in Greeley. Plus, Cutler did meet with his new head coach Josh McDaniels on Saturday and surely a face-to-face conversation would clear up whatever philosophical differences the two gentlemen have about five-step drops.
But now it's Monday and the team's first offseason workouts begin today and Cutler is not even in the state. The latest word is that he is nowhere near the city of Denver and has formally asked the team to trade him.
At the end of the meeting, he wasn't like, 'Jay, I want you as our quarterback, you're our guy.' It felt like the opposite. He basically said that I needed to tell him if we can't work this out, to let him know," Cutler added. "I thought he was antagonizing me and that was disappointing because I was ready to move on, committed as a Bronco."
G/O Media may get a commission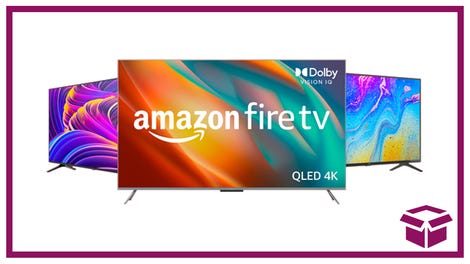 Ooh. stunning.
New Amazon Fire TVs
Cutler says that McDaniels fully admitted that he would rather have Matt Cassel, but even though that's never going to happen the two still can't seem to make nice. McDaniels told his slightly different side of the story:
"Again, I think that's been a pattern. I couldn't get [Cutler] to talk to me for two weeks or to talk to Mr. Bowlen. Then when he came here this weekend, we couldn't get a one-on-one meeting, just me and him alone. He wanted Bus in there, so I had Brian sit in, too. And it was the four of us. There wasn't any yelling, none of that. I can't believe we get to a totally different [interpretation].
It really appears that all McDaniels had to do is say "Jay, you're the best and I love you forever" and everyone could get on with their lives, but it appears that the coach is too proud to beg. So now the Broncos have to try and deal their starting quarterback, yet do it from a weak bargaining position because the guy they are trying to trade is Jay Cutler.
Jay Cutler Tells Denver Broncos To Trade Him - cbs4denver.com [CBS4]
Breaking: Jay Cutler Formally Requests A Trade [But The Game Is On]
Jay Cutler Puts Home Up For Sale [KMGH Denver]