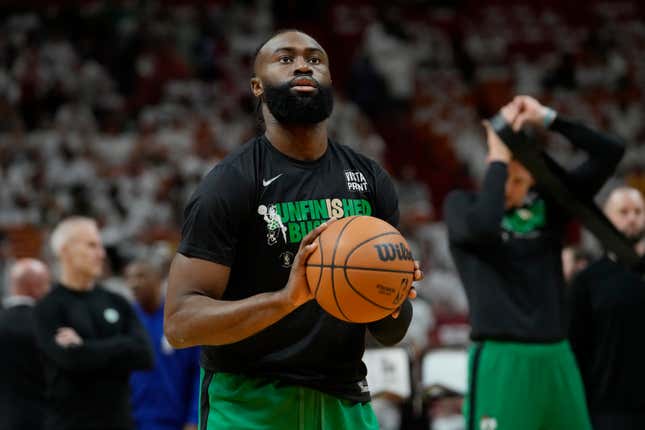 It's difficult to contextualize what just happened with Jaylen Brown and the Boston Celtics. The team's second-best player, who's got the handles of a wing with two left hands, landed the largest contract in NBA history, signing a five-year, $304 million supermax extension. That's a lot of money, and even though it won't be in the long term, or even by the time Jayson Tatum gets his deal next year, the label of "highest-paid player in NBA history" will dog Brown.
Is Jaylen Brown worthy of being the NBA's highest paid player? | Agree to Disagree
Is Jaylen Brown worthy of being the NBA's highest paid player? | Agree to Disagree
Dribble a ball off your foot? "He's getting paid how much?!" Blow a playoff game and/or series? "He's getting paid how much?!" Lose to the Miami Heat, again? "He's getting paid how much?!"
Do literally anything wrong — argue with a teammate or a coach, sympathize with the wrong segment of X, or even get unintentionally injured — and Brown will have failed to live up to his side of the bargain.
This reminds me of the last monetarily overrated professional athlete to reset his sport's market, and subsequently get killed for underperforming: Kirk Cousins. Though Brown is a better NBA player than Cousins is an NFL quarterback, fans haven't let the Minnesota QB forget how overpaid he is — despite not really being overpaid anymore.
Do you even know what the Cousins contract in question is, or that he's on his third deal in the Twin Cities? Unless you're a Vikings supporter, probably not. The casual fan simply skims the news, remembers the eye-popping headlines, and proceeds from there. (Cousins and Brown also have anti-vax stances in common, so that helps me remove any empathy reserved for unfair criticism.)
Mike Conley once went through all of this when he was made the highest-paid point guard in the NBA, and it persisted for a time. However, that happened in Memphis, and small markets are more apt to have overprotective supporters, rather than a place like Boston that barely needs an excuse to flip the narrative.
I haven't seen the reaction from Celtics' fans, yet it doesn't take an X account to know more than a few meltdowns have hit social media and sports talk radio airwaves. This deal makes me want to unpause my podcast hiatus to hear Bill Simmons have an existential crisis.
Brown averaged 26, 7, and 3 a season ago, and that's going to be the bar by which he'll be measured. He'll be 28 by the time the deal kicks in, and the next five to six years are forecast to be his prime. By 2028-29, when the contract expires, Brown will likely be somewhere in the range of Cousins on the list of highest-paid players in the NBA (right now, Kirk is the 13th highest-paid QB), or maybe even lower.
That doesn't matter now, or even for the next couple of seasons. Fanduel currently has Boston as its 2024 NBA title favorite at +470, so the slightest dropoff is going to jumpstart trade rumors, which Brown already knows intimately.
The only way this ends well, and not in a litany of trade requests and hurt feelings, is if the Celtics win a title — soon. Maybe that happens, or maybe the entire New England area has a conniption after another defeat at the hands of Heat Culture.
So, yes, this could theoretically work out, but the sheer amount of money puts Jaylen Brown in an extremely volatile situation. I guess that's what the money's for.