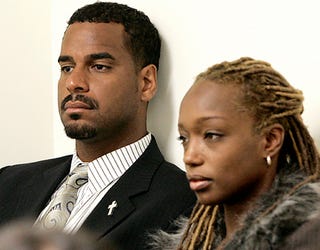 In the spirit of Valentine's Day, we bring you this update on former Net (and accused limo driver assassin) Jayson Williams. Williams' wife filed for divorce recently due to his overwhelming vileness and abusiveness.
According to TMZ, Tanya Williams' grounds for divorce include the following:
• Jayson faked suicide and stomach cancer.
• Jayson liked to go "down on white girls."
• Jayson had cocaine and condoms in his drawers.
• Jayson threatened to kill her.
• Jayson refilled his Cialis prescription a lot even though she wasn't gettin' any.
• Jayson peed in the sink.
Well, if anything, this list is a Facebook status goldmine.
So far Williams has had "no comment" on the allegations in the divorce papers and is currently awaiting a re-trial for tragic dead-chauffeur-in-his-mansion incident that occurred in 2002.

Jayson Williams' Wife Wants D' From Jay [TMZ]
Jayson Williams Blasted By Wife In Divorce Suit [NY Post]