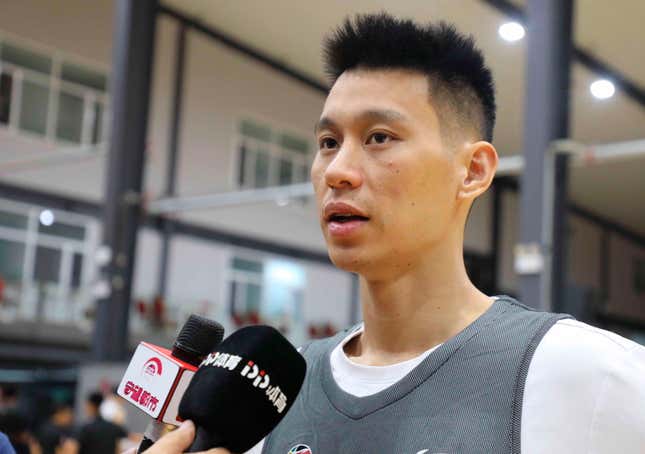 Throughout Asia, Jeremy Lin has achieved rock-star status, and is still putting up platinum numbers against a lower level of competition than what he faced in the NBA. This season in Taiwan's first fully professional basketball league, Lin has posted eye-popping averages of 26.3 points, 8.5 rebounds, and 8.9 assists per game that he could have only dreamed of during the Lin-sanity phase of his career with the New York Knicks. In Taiwan, he's probably the league's top point guard. However, 11 minutes into a clash between Lin's Kaohsiung 17LIVE Steelers, and the Formosa Taishin Dreamers, the 34-year-old guard took a sharp elbow to the head from opposing player Chris McCullough.
Grant Hill looks to repeat Team USA's 2004 "success"
Lin collapsed to the ground, then appeared to briefly seize up in a manner resembling the involuntary reaction from Miami Dolphins quarterback Tua Tagovailoa after his own frightening hit on Thursday Night Football last September. A stretcher was brought out for Lin, but he was able to walk off the floor on his own, and even returned to the bench in the final frame to watch his team lose a matchup needed to vault them into the postseason.
However, during Lin's post-game presser, he expressed uncertainty over whether he would return to professional basketball next season. Lin is nowhere near the athlete he was as the 23-year-old guard who saved the Knicks season in 2012, but in parts of the Asian continent, Lin-sanity never ended. Lin's basketball career has taken him to lofty points. From Linsanity to various starting or non-starter's rotation stints around the league, an NBA title with the Toronto Raptors as a reserve, the G League, and then to China where he's capitalized on his stardom as the premiere Asian-American NBA star of the past decade.
In China and Taiwan, Linsanity never ended. Since leaving the NBA, Lin has won a championship with the CBA's Beijing Ducks, and the Steelers in the P.League+. Given his disturbing fencing response following the concussion, what we know about the effects of concussive blows, and Lin dropping clues about potential retirement, it wouldn't be surprising to see him finally walk away from the sport. It's a shame that's the final image of Lin on a professional basketball court, but it shouldn't be the everlasting one.
Follow DJ Dunson on Twitter: @cerebralsportex