Your morning roundup for Aug. 17, the day we wondered what would be the best vintage of AC/DC wine. Video via Puck Daddy. H/T to Disco Choo. Got any stories or photos for us? Tip your editors.
What we watched: So everyone is just shocked at all the allegations laid bare in Yahoo's Miami report. And many reactions, typically, call for excising the pimple as the rest of the body just continues to rot. Miami deserves the death penalty, goes one refrain. What did administrators know, and when did they know it?, goes another. A shame Al Golden and future players will have to endure the consequences of actions that didn't involve them, say others.
But if the NCAA were truly honest with itself, it would see this case as a clarion call for real reform, for fixing a system that rewards administrators at the expense of the allegedly amateur athletes in their charge. There are Miamis at schools all over the country, minus the garden of delights that is South Beach. Miami just happened to get caught because a shady booster who's lost everything was willing to go on the record.
G/O Media may get a commission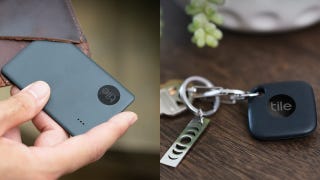 Up to 35% off
Tile Item Trackers
Elsewhere
Yeah … no: "The New York Giants quarterback, who does have a Super Bowl MVP award to his name, said on 'The Michael Kay Show' on ESPN New York 1050 on Tuesday that he considers himself to be a top QB who belongs in the same class as New England's Tom Brady. 'I consider myself in that class,' Manning said, in response to a question from Kay." [ESPN]
Drew does Matthew Berry: "You TMR readers know that I've been on my fair share of dates over the years. I've dated them all: Russian escorts, Bulgarian escorts, Thai escorts, Czech escorts. You date enough high class tail like that (I take 'em out for sushi before we get to THE BUSINESS), you're gonna learn a few things. For example, did you know lots of these chicks have KIDS? For real! TALK ABOUT A FUCKING PARTY FOUL! Here I am, about to 'Berry' my cock in this Russian gal, and suddenly I see this big Caesarian scar. BRO! NOT COOL! I don't want to think of some little slimy baby watersliding out of that cooch before I go vag-surfing! FALSE ADVERTISING, SVETLANA! That exactly how I feel about Dwayne Bowe, you know?" [KSK]
More bad news for the Wilpons: "Under its ruling, the team's owners, Fred Wilpon and Saul Katz, could have to turn over at least $300 million to the trustee. It is a major financial setback for the owners who, faced with an unprofitable baseball operation, have already been forced to sell a portion of the team just to stop the bleeding of money. The United States Court of Appeals for the Second Circuit, in a unanimous ruling by the three-judge panel, said the trustee's central formula for deciding how to recoup and redistribute the money that had moved through Madoff's vast Ponzi scheme was appropriate." [New York Times]
From December, more on 'Miami's Caligula': "After nearly 40 years in Miami, he finally has it all: parties with Shaquille O'Neal, Dwyane Wade, and the Dolphins; lunches with police chiefs; and his name etched onto a lounge at his beloved University of Miami. He's SoBe's Jay Gatsby, a self-made runt from Brooklyn who now rules an island fiefdom that he rarely leaves. Ayodele's party was part of a beautiful, drunken high. But it didn't last. Now, two years later, Shapiro languishes in a federal prison in New Jersey, awaiting sentencing for crafting an $880 million Ponzi scheme in what may be South Beach's largest-ever fraud case. [Miami New Times]
Your freestyle frisbee dog tricks interlude:
Cyclist gets hit by car, rides across the country: "There's a statistic out there that once every 3,000 miles, you'll have some sort of bike-versus-auto incident. So, I was kind of prepared for an injury, though I never suspected one that was going to change my entire life," he said, noting the irony of bringing that up when he's "just approaching the end of my first 3,000-mile bike ride." [NewsWorks]
Today in creepy similes: "I saved your club in 2005 and 2007 when nobody else would. The rebuilding of Leeds United is a bit like sex. In an age of instant gratification, Leeds United is having a long, drawn-out affair with plenty of foreplay and slow arousal." [Rumors and Rants]
We are all Dave McKenna CXCIV: Here's your daily link to Dave McKenna's brilliant "The Cranky Redskins Fan's Guide to Dan Snyder," which we'll be posting until Snyder's dumbass libel lawsuit gets the death penalty.
Merch: Managing editor Tom Scocca and contributing editor Drew Magary have both written books. You can buy Scocca's Beijing Welcomes You: Unveiling the Capital City of the Future here, and Magary's The Postmortal here. Now do it.