Jermaine Dupri isn't responsible for too many radio hits these days, but he's definitely raking in the pageviews. In addition to his roles as rapper, producer, and mogul, the '90s R&B giant can now also call himself a content creator: For the last four years, his blog Global14 has churned out some top-quality stuff.
Global14 was launched as a tech blog in 2011 in partnership with Crown Royal (don't ask me, because I don't know why, either), but eventually, it morphed into a music blog, and also JD's personal blog. It's also somewhat of a social network. Not joking—it has 47,000 members! From the looks of it, Jermaine is spending a lot of his time these days bloggin' under the handle "JD." It's a content goldmine. So let's take a look at some of its greatest recent hits:
February 18:
The sentiment is nice, but if that's all JD plans to consume for the next 40 days, we should start making the necessary arrangements.
2. Exercise seven days a week, no exceptions

To me, if life boils down to one thing, it's movement. To live is to keep moving. – Jerry Seinfeld

Seinfeld could have been speaking about metaphorical movement or physical movement, but either way, moving your body will change your life. There is no excuse for every entrepreneur not to move every day.

Movement gets your brain going, your blood flowing, the oxygen circulating and the ideas flowing. It keeps your body healthy so your mind can stay healthy. You have to have a strong mind and a healthy body to outperform your competition.
G/O Media may get a commission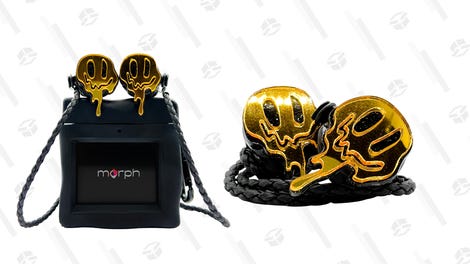 morph audio
Morph Earphones
A clever way to get ahead is to do as Jerry Seinfeld does.
February 12:
Microsoft acquired a widely praised calendar app Wednesday that works across iOS and Android devices, as part of a continuing campaign to lure anyone, regardless of their device, into using Microsoft's growing suite of mobile apps.
February 11:
Tags: BAD BITCHES, FASHION, JD's World, LIFESTYLE
February 10:
Last year, more than 1 billion Android smartphones were shipped. It's a massive milestone, and one that Apple, with its focus on the higher-end market, can't hope to replicate for years.

But according to a report by ABI Research, Android sales also went into decline in Q4 2014, for the first time ever.
Okay then!
DOPE!!
January 29:
All on Mark! Wahlberg is all in, to the score of being the 'Six Million Dollar' man. You better check this Mark's hand, because he's got the hot one. Just like his early days plays of 'Three Kings' and 'Four Brothers'. A 'Perfect Storm' for this 'Lone Survivor' of the star stock market rise and fall of the Hollywood hills. Sure he's been dealt some bad hands. That's just 'Pain and Gain' for you. Still he's bet big and cashed in on franchise face cards from the metal to the fur with 'Transformers' and 'Ted'. All whilst concealing some of his best deals with that Cruise/Keanu blending in picture poker face, with hidden gems like 'Contraband' and other thrillers like 'We Own The Night', '2 Guns' 'Broken City' and now this one. Still amongst all the fun ('The Other Guys') and games ('The Fighter'), the man whose cashed in and played with more chips than McDonalds always had an ace in the hole with his Academy Award nominated 'The Departed'. You got to love this guys hustle. Now reuniting with 'Departed' writer William Monahan, Wahlberg invites a 'Planet Of The Apes' (no not his one) director Rupert Wyatt to the table to play their cards at remaking a 1973 James Caan film, complete with an up to date soundtrack your hipster friend would be O.M.G. jealous of and a cinematographic look of the city of angels, Los Angeles that one of their Instagram filters could never quite do so digitally proud. For the look and feel of this cool and slick picture, this 'Gambler' pays off.
Let's all go see The Gambler then.
January 28:
January 27:
WHAT!!
January 25:
This is just one of many MY WEEKEND posts.
January 23:
This blog truly has everything.
January 21:
Told you.
---
Lead image via AP