Every Cowboys fan in America held their breath when Tony Romo took a knee to his surgically repaired back. Not Jerry Jones. The Cowboys owner/GM/head trainer leaped into action.
Ohtani has the WBC, but will Mike Trout ever lead the Angels to a championship? | Agree to Disagree
As Romo was taken to the locker room to be treated for what would turn out to be a contusion, Jones left his suite and hurried down to be there for the exam. Because it's totally standard for an NFL owner to be in the room as an injured player undergoes X-rays.
He was in the locker room when Romo was getting examined and felt it necessary to inform Garrett that the quarterback was available to return to the game.

"I was here during the tail end of the examination and knew he planned to come back out and play if he were needed," Jones explained matter of factly. "Of course he was needed. I felt good that he could come back out. When he saw the opportunity he did. I told Jason that he would be back in."
G/O Media may get a commission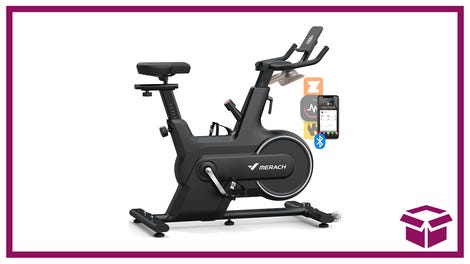 14% off + Coupon
Merach Indoor Cycling Bike
Doctors gave Romo a pain-killing injection so he couldn't feel a damn thing, and pronounced him good to go. And for some reason it was Jones—not a trainer, not an assistant—who went out to the sideline and told head coach Jason Garrett he'd be getting his QB back. This doesn't happen on normal teams.
The question is whether Jones was telling Garrett that a gimpy Romo wanted to come back in, or was going to come back in. The quote above suggests there was no question, but one given to the Dallas Morning News makes it sound like Jones was merely the messenger.
"I told [Garrett] he'd be back if we needed. X-rays showed no fracture," Jones said. "I told him [Romo] was dead set to come back out."
In December, Romo underwent surgery to repair a herniated disk in his back, and everyone's worst instinct was that Romo's old injury had been aggravated. And even though X-rays wouldn't reveal disk problems, Dr. Jerruh offered his diagnosis after watching a replay of the tackle.
"We knew there were no structural issues when they gave him the X-rays," Jones said. "I very concerned the fact that he laid there as long as he laid there. After we looked at the play and saw that was a knee kind of to the side of the back, then we felt better about it."
And then, early in the fourth quarter (just as Brandon Weeden was leading Dallas on an eight-play, 80-yard scoring drive), Romo emerged from the locker room. Jones's and Garrett's positions and faces in this screengrab sum up the Cowboys' power dynamic pretty well, I think.
Jones remained on the sideline for the remainder of the game, which I'm sure didn't have Garrett feeling pressured or undermined in the least.
After Romo's return, the Cowboys couldn't put up any more points, and fell to Washington in overtime. But at 6-2, Dallas is probably thrilled to have lost a mere game if it means their quarterback won't miss any extended time. And it appears he won't: Romo will reportedly be ready to go for next Sunday's game in Arizona. (That's according to Jerry Jones, naturally.)