The heroes of State College are treasured, but not tenured. Earlier today an image of Jerry Sandusky on a massive mural in downtown State College was painted over. It's as if the school would like to pretend that Jerry Sandusky and everything he did never existed—a hard thing to reconcile with the thousands of supporters calling for Joe Paterno to stick around for another two months.
The best sports movies according to Toheeb Jimoh
Artist Michael Pilato's massive mural "Inspiration", taking up a half-block outside the student bookstore, features scores of noteworthy community figures. That includes, naturally, members of the football program. That includes, unfortunately, Jerry Sandusky. Pilator removed Sandusky from the mural, replacing him with an empty chair and a blue ribbon to symbolize the victims.
There is debate to be had on the appropriateness of trying to cover up the past, of self-censorship in art, and on whether Sandusky's beatific face forever beaming out upon Hiester Street could have been a bold memorial to an institution that failed its community. But it is Pilato's ever-changing mural, to alter as he pleases. And it's hard to criticize him for being one of the few people thinking of the victims today—he was contacted by the mother of one of the alleged victims, asking him to remove Sandusky.
Graham Spanier and Joe Paterno (with a blue ribbon on his chest) will remain on the mural for now. Pilato and the Penn State community, not to mention St. Peter, Maat, and Spanier and Paterno themselves, will have to decide whether the good they've done outweighs the wrongs they've allowed.
G/O Media may get a commission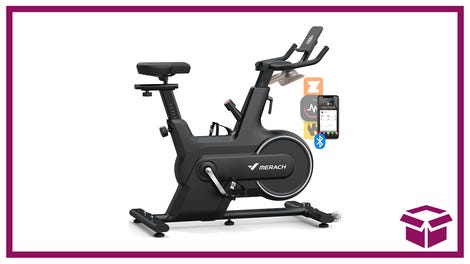 14% off + Coupon
Merach Indoor Cycling Bike
State College mural artist to paint over image of Jerry Sandusky [Patriot-News]