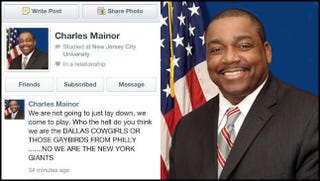 Charles Mainor, an assemblyman and Giants fan out of Jersey City, N.J., was the victim of an insensitive friend's Facebook posting over the weekend. Take note, pols: Blaming your friends, it seems, just might be the new hacking claim.
"We are not going to just lay down, we come to play," Mainor's page proclaimed on Sunday night, after the Giants had knocked the Packers out of the playoffs. He continued: "Who the hell do you think we are the DALLAS COWGIRLS OR THOSE GAYBIRDS FROM PHILLY...NO WE ARE THE NEW YORK GIANTS."
Punctuation issues aside, some people found the missive to be offensive, and wrote in to the Jersey Journal about the "anti-woman, anti-gay tone" of the post. Mainor apologized to the paper and explained that he only wrote the half of the message that was neither anti-gay nor anti-woman.
"I have very, very close relatives who are gay," the assemblyman told the Journal. But maybe not friends.
Jersey City assemblyman apologizes for Facebook post calling Philadelphia Eagles 'gaybirds' [NJ.com]