He's good at what he does (for Jeter, it's baseball; for Jesus, it's healing the sick or whatever). People love him. He says and does the right things at all the right times.
He seems like he's probably a pretty solid guy all-around (talking about Jesus, but it applies to Jeter too). He's engaged to Minka Kelly (again, Jesus). The point is, sportswriters love Captain Intangibles like North Koreans love birthday cake (this is a new racist stereotype I'm trying to start, pass it around). He's a "throwback." He "plays the game the right way." He "ingests petroleum waste product and converts it into silky velvet fabric suitable for tailoring into handsome robes or luxurious bedding material." You've read all of these clichés before, particularly the last one.
Get ready for some more: Allen Barra of the Wall Street Journal is a sportswriter, and he thinks Derek Jeter should win the MVP despite the pesky fact that Joe Mauer is a better candidate. Why? Staple your pants to your legs, because otherwise they might fly off due to your outrage and surprise:
The Case for Derek Jeter, MVP

In the movie industry, many recipients get an Oscar years after they really deserve one, and often as a kind of lifetime achievement award.
In the music industry, Grammy voters honor musical acts that don't even belong to the category in which they're nominated (Jethro Tull, Best Hard Rock/Metal Performance, 1989). Therefore, LPGA golfer Se Ri Pak should win the AL MVP this year. In the television industry, Entourage's Kevin Dillon has been nominated for Best Supporting Actor for 17 years in a row. Therefore, Kevin Dillon should win the AL MVP this year.

Paul Newman, for instance, took one home in 1987 for his performance in "The Color of Money," and Martin Scorsese in 2007 for directing "The Departed." Both could just as easily have been given the Academy Award several times earlier in their careers. Baseball's Most Valuable Player awards are no different...
Read that again: "Baseball's Most Valuable Player awards are no different." Really? The MVP award is no different from the Oscar race? Not one difference? Tilda Swinton is exactly analogous to Mark Teixeira? The sound editing in Master and Commander is 100% the same as Miguel Cabrera?
G/O Media may get a commission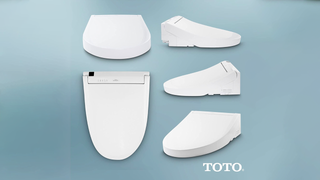 44% off
Toto Washlet Electronic Bidet Toilet Seat
Okay, that's a bit of a willful misreading of Barra's meaning. I hope. But you can't set up a comparison between two different contests and then use one contest's shitty, flawed reasoning to justify the shitty, flawed reasoning in the other. I mean, you can. But you shouldn't, unless you want to be a terrible, terrible human being. Is that what you want to be? Fine. Go ahead. Do it. No, I understand. Do it.

...and the New York Yankees' Derek Jeter might well wind up as baseball's Paul Newman for the 2009 season.
But with dreamier eyes. ***SWOON-BONER-SWOON!!!***
The Yankees currently have the best record in the major leagues, and many observers think the primary reason is Mr. Jeter, who, at age 35, has rebounded from a subpar 2008 season to one of his best years ever.
Hey, I'm an observer. Here are my reasons the Yankees currently have the best record in the major leagues:
Reasons 1 through 201,448,189: The number of dollars in their 2009 payroll. Currently $65+ million more than the next team, the Mets.
Reason 201,448,190: Mark Teixeira. .918 OPS. (Using OPS as a quick and dirty stat 'cause a lot of you understand the scale.) 33 HR.
Reason 201,448,191: Alex Rodriguez. .912 OPS. 24 HR.
Reason 201,448,192: Jorge Posada. .899 OPS. At age 38! As a catcher! 20 HR!
Reason 201,448,193: Johnny Damon. .886 OPS. 24 HR.
Reason 201,448,194: Robinson Cano. .879 OPS. 23 HR.
Reason 201,448,195: Hideki Matsui. .862 OPS. 23 HR.
Reason 201,448,196: Nick Swisher. (NICK SWISHER!!!!) .851 OPS. 23 HR.
And also Jeter. Jeter's probably been the most valuable guy of the bunch, but this lineup is absolutely loaded. As of the writing of this sentence, September 6, 2009, 6:41 pm Pacific Time, there are seven Yankees with .850+ OPSes and at least 20 HR. And Jeter's not even one of them!
Let's not forget the addition of C.C. Sabathia and A.J. Burnett. Or the undead genius of Mariano Rivera, who has a 64/10 K:BB ratio at the age of 300. The point is, the Yankees have the best record in baseball. The Yankees are the best team in baseball. But how much extra credit should Jeter get for that?

He's done it against all expectations-no team with a 35-year-old starting shortstop has won a World Series since the Yankees with Phil Rizzuto in 1953.
Yeah, but...but...the seven other guys mashing the living shit out of the ball. And the 900-odd millions of dollars of starting pitcher meat added in the off-season. Derek Jeter isn't exactly a hero for going to war with these guys.

Mr. Jeter has been batting at or around .330 since spring, and-with about 30 games still to play-he has hit more home runs than in any season since 2005.
And Jason Bartlett is hitting .334 and has a higher slugging percentage than Jeter and more steals and the same OBP and that's why you see all these articles about Jason Bartlett for MVP. Right? Right???
Twelve of Jeter's 17 home runs have come in the matchbox-sized toolshed that is the new Yankee Stadium, by the way. And his OPS is 68 points higher at home. Just saying.
He is running the bases as he did years ago, with a stolen-base success rate of more than 80%. His critics have always focused on his fielding, where by most objective yardsticks he has ranked as mediocre or worse. But this year, according to John Dewan, author of "The Fielding Bible," "Derek Jeter is having the best year defensively since I began tracking him with defensive metrics in 2003."
Good to know. Keep in mind, of course, that "the best defense of Derek Jeter's life" ranks somewhere in between "the best fiscal responsibility of Mike Tyson's life" and "the best not-getting-assassinated-ness of James Garfield's life."

No one would argue that Mr. Jeter's statistics are better than those of Minnesota catcher Joe Mauer...

End of article. Right? Right?? Right??? No. Not right.

...the current favorite in the MVP sweepstakes, who is leading the American League in batting (around .370), on-base percentage and slugging average.
And VORP and WARP3 and EqA and well, gosh. Leading in everything. INCLUDING AMOUNT OF DESERVEDNESS OF WINNING THE MVP AWARD.

For that matter, there are several players, particularly Detroit's Miguel Cabrera, who are outhitting Mr. Jeter in batting average and have better power numbers.
There sure are. Jeter is 30th in the AL in slugging. He's being outslugged by Shin-Soo Choo, Luke Scott, J.D. Drew, Juan Rivera, Michael Cuddyer, Michael Young, Jason Kubel, and six other guys in his own lineup. Joe Mauer is being outslugged by no one. He's first in slugging. Number one. He's also first in OBP.

The case for Mr. Jeter as American League MVP is being made by more subjective arguments.
Your subjective arguments interest me greatly, Mr. Barra. Subjectivity is the cornerstone of some of my favorite disciplines, including:
Astrology
Feng shui
Tarot card reading
Phrenology
Dowsing
Cryptozoology
Palm reading
Biorhythms
Crystal healing
Urine therapy
Dianetics

"How do you measure the value of inspiration and professionalism?" asks Marty Appel, author of "Munson: The Life and Death of a Yankee Captain."
With…um…a…an inspirationamometer and a professionalismfantasmatron! With these two scientifically accurate and mathematically precise instruments, we can readily measure that Derek Jeter is 3.6 times as inspirational and a whopping 14.9837482348920011070110010001001 times more professional than that shiftless sluggard Joseph P. Mauer!
Why, Mauer hardly registers a 9 x 10-19 on the professionalismfantasmatron! And people were suggesting we give HIM the MVP?! The nerve!

"Some people will argue that intangibles don't exist, but in the ninth inning of close games everybody believes in them."
This is actually correct. Whenever the ninth inning of a close major baseball game rolls around, everybody — everybody — millet farmers in Zambia, metallurgists in Taiwan, notaries public in Lithuania — spontaneously let intangibles into their hearts and worship once again at the altar of Captain Intangibles, Derek Sanderson Jeter. I believe this is the premise of the new ABC show "Flash Forward."

Thurman Munson's and Mr. Jeter's personalities were different; Munson was surly and pugnacious, while Mr. Jeter still projects the image of boyish enthusiasm he had as a rookie in 1995. But, says Mr. Appel, the two share one important characteristic: "They both lead by example and performance. They helped make their teams better just by being there. No one ever slacked off with either of those guys on the field."
Except the time that Nick Swisher spent the entire 7th inning of a game against the Rays playing with a Bernese Mountain Dog in right field. Remember that? That was crazy. Why didn't people make a bigger deal out of that? He wasn't even wearing a uniform or a glove! He was wearing cargo shorts and a fishing hat and all he did was keep throwing a frisbee to that goddamn dog.
Anyway, I'm sure the "reverse slack-off effect" that Jeter has on layabouts like Jorge Posada and Hideki Matsui and Alex Rodriguez is way more valuable to his team than the 160 points of OPS Mauer has on him. 160 points is roughly the gap between Jeter and Ryan Theriot.

To which Mike Ozanian of Forbes.com
I call bullshit. That is not a real person.
adds: "Jeter has been the anchor on a team that could have been derailed by injuries to key players like Alex Rodriguez. Winning has to count for something."
Anchoring has to count for something. It's a thing we made up to make Jeter sound good. Let's just give him 10 more HR for anchoring — we can do that, right? I'm sure he inspired his no-talent teammates to hit at least 10 more bombs through sheer anchoriffiscosity.

Winning and consistency have been Mr. Jeter's trademarks throughout his 14 seasons as a Yankee starter. He's been the linchpin for six pennant and four World Series winners. The Yankees have been the winningest team in baseball since he was given the shortstop's job, and are the odds-on favorites to go all the way this year. He has more hits than any shortstop ever, having passed Luis Aparicio a few weeks ago, and he will soon pass Lou Gehrig on the all-time Yankees hit list.
Barra makes some great, great points here. The Yankees won the World Series in 1996. We should probably reward Jeter for that. They won 114 games in 1998. Shouldn't we give Derek Jeter the MVP in 2009 because of how awesome that was? Gosh. We owe Jeter so much and we have so few ways of thanking him for his work. MVP that man!
Proposal: we give the 2009 AL MVP to Willie Mays. I know he retired in 1973 and he played all 22 seasons in the National League, but did you know he was one of the all-time greats ever to play baseball? I bet you hadn't even heard of him until you read the sentence I wrote two sentences ago. Seriously: Willie Mays for 2009 AL MVP. If we're really going to follow the Paul Newman late-in-life Oscar win model of award-giving, you absolutely cannot remove Mays from the debate.
He is on pace to threaten Pete Rose's all-time record of 4,256 career hits.

Pete Rose: 4,256 career hits.
Derek Jeter: 2,718 career hits.
4,256 - 2,718 = 1,538 more hits to go.
Derek Jeter is 35 years old. Assuming that age has absolutely no effect on his performance (always a safe assumption), he would have to continue his pace of approximately 194 hits a year for 8 more years to match Pete Rose. Which means at age 43, he would have to be shattering the record for hits by a 43-year-old (currently held by Carlton Fisk, with 111 hits). And he would have already broken the record for hits by a 42-year-old (Luke Appling, 148) and a 41-year-old (Pete Rose, 172).
Anyway, I'm pretty sure "vaguely, potentially, possibly having a scintilla of a chance of getting within shouting distance of Pete Rose's hit record within the next ten years" is the number two criterion on the ballot for MVP voting. I haven't read it in a while, but I would bet a ham sandwich on it.

And yet Mr. Jeter has never been voted the MVP. In 1999, most baseball analysts thought that the Yankee, who batted .349 with 24 home runs and a league-leading 219 hits, was the best player. But sportswriters chose Texas catcher Ivan Rodriguez. In 2006, the analysts again favored Mr. Jeter, who batted .343 and stole 34 bases, but the writers went with Minnesota first baseman Justin Morneau.
[Kennedy voice] And the only way we can right these wrongs is by committing...another...wrong! [/Kennedy voice]
(raucous applause, women fainting)
"I think there's always been a bit of resentment toward Derek outside of New York, where he is worshipped," says Dave Fleming of Bill James Online. "There's an assumption that New York players have an unfair advantage when it comes to MVP voting, but in the case of Jeter and other New York ballplayers like the Mets' Carlos Beltran, I think you might say there's a counterargument: namely, that to play in New York might cost you votes."
There's always been a bit of resentment toward handsome guys, who always seem to do well with women. But you might say there's a counterargument: handsome guys don't do well with women. Oh wait. There is one tiny thing that's wrong about that: it's completely idiotic.
So, if Mr. Jeter does slip by Mr. Mauer for this year's award, who's to say it isn't fair after all?

Logic, reason, objectivity, empirical evidence, and 400 years of the Francis Baconian scientific method that characterizes rational thought in modern human society.
And who's to say Paul Newman didn't deserve that Academy Award in 1987?
William Hurt, James Woods, Bob Hoskins, and Dexter Gordon. Completely coincidentally, the five of us chatted long into the night over glasses of Calvados about a week and a half ago. Let's just say the wounds haven't healed.

Still, there is a question as to whether the MVP award really means all that much to Derek Jeter. As he put it on Aug. 23 after the Yankees beat the Red Sox-a victory that Mr. Jeter paced by hitting a home run on the game's first pitch off Boston ace Josh Beckett-"I'm not thinking about winning any awards right now. The only award that matters is that fifth World Series ring."
Joe Mauer, meanwhile, issued a different statement to the press after going 2-4 with a walk against the Cleveland Indians. "Fuck the World Series," said Mauer. "Seriously. Write that down. Fuck the World Series. If I ever win a World Series ring, I will literally just take it and fuck the tiny ring-hole." Mauer punctuated his remarks with a graphic, thrusting pantomime, presumably of what he would physically do to the World Series ring. Mauer added: "I don't give a flying goddamn about winning. I am an awards guy. I'm Joe Fucking Mauer. I only care about individual honors. How many times do I have to tell you guys that? Mauer out, fuckfaces!" Mauer then urinated on a picture of Michael Jackson and Farrah Fawcett holding hands and stormed out of the clubhouse whistling a pro-al Qaeda anthem that he wrote himself earlier in the day.