Connecticut basketball coach Jim Calhoun got into a little spat with a member of the Green Party this weekend over how much he makes. Is there some way they could both lose this argument?
Ohtani has the WBC, but will Mike Trout ever lead the Angels to a championship? | Agree to Disagree
The dispute arose when "freelance journalist" Ken Krayeske opened Calhoun's post-game press conference on Saturday by asking the coach about his rather large salary and how it might relate to Connecticut's rather large budget deficit. However, Krayeske is freelance journalist in the way that Rush Limbaugh is guy who likes to talk about politics. Most of his writing is done for his own progressive political website and he actually ran the 2006 gubernatorial campaign for the state's Green Party candidate. He was even arrested for disturbing the peace at Rell's inauguration parade in 2007. In other words, he's a professional rabble rouser. I hate rabble rousers.
So does Jim Calhoun, apparently, because he was anticipating where the line of questioning was going and angrily insisted that he would not give back a dime of his $1.6 million salary—he actually make way more than that, so thanks for asking—because he's a rainmaker and the guy asking him questions is a stupidhead. He was rude, condescending, and responded to a legitimate question with shouts and insults. How much revenue did that little hissy fit generate for the university, Jim?
G/O Media may get a commission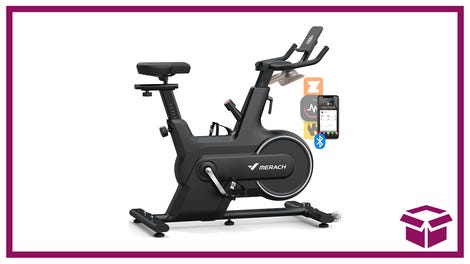 14% off + Coupon
Merach Indoor Cycling Bike
Then again, maybe a post-game press conference isn't the best place to discuss state budget policy. It also isn't cool to disparage every other reporter in the room, by implying they are obedient sheep who don't know how to do their jobs. (They're sports writers, dude, not war correspondents.) UConn basketball does make a lot of money and even if you don't want to admit it, having the No. 1 basketball team in the country does keep lacrosse players in dry socks and makes having to live in Danbury slightly more tolerable. So does that First Amendment you keep shouting about also allow me to say that I think you should shut your pie hole?
On the other hand, the basketball coach at the state college makes 10 times more than the Governor? I don't think that $12 million he single-handedly brings in will quite cover the $944 million budget gap, so maybe when the Governor asks that all state employees make sacrifices in a time of crisis it doesn't help to have the highest paid employee of all griping about how he needs every one of his million dollars that didn't come from his shoe contract for his retirement plans. You know who else wanted to retire someday? The accounting secretary down at the Sanitation Department, but she's only got four weeks left on her unemployment insurance, so you know ... fuck you, Coach.
This is one of those public fights where you can kind of see both sides of the argument, but you can't bring yourself to back either of the incredibly obnoxious sides.
Krayeske vs Calhoun Revisited : Boston Score [Boston Score]
Jim Calhoun Vs. Ken Krayeske Over UConn Salary [Capitol Watch]
Coach Calhoun Yells, Refuses to Discuss Comcast Contract [The 40-Year Plan]
Jim Calhoun Is Not Amused By Your Questions [Deadspin]