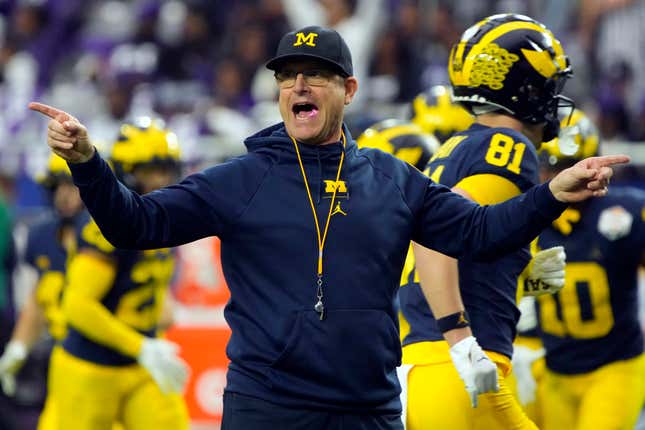 Sherrone Moore is weeks away from getting his shot — which is all an assistant coach can ask for.
In the constant whirlwind that is Jim Harbaugh, lost in the shuffle of his once-expected four-game suspension by the NCAA that never happened, which transformed into a three-game self-suspension by Michigan, and his remarks on NIL — backing college athlete revenue sharing — has been a decision he made that's been overlooked, but should be highlighted, as it speaks to a decades-long issue in college football — the lack of Black offensive coordinators.

"All 10 coaches are tremendous and talented," Harbaugh recently told reporters, as he announced that defensive coordinator Jesse Minter will serve as the head coach in the opener on Saturday. Special-teams coordinator/safeties coach Jay Harbaugh and running backs coach Mike Hart will split halves in Week 2 vs. UNLV. And Moore (offensive coordinator) will be in charge against Bowling Green in Week 3. "Why one each game? Because I know each time a coach is the head coach. I know that their preparation is going to be the fullest, at the max and that is going to be the best thing for our football team."

Hart and Moore are Black. And so was Josh Gattis, Harbaugh's former offensive coordinator. Moore won't be on the sideline for Saturday's game as he's been suspended as part of Michigan's self-imposed penalties for the violations that led to Harbaugh's suspension.

"I've heard people comment it's a slap on the wrist. It's more like a baseball bat to the kneecaps," Harbaugh said about the matter.

But beyond all that, if it's possible to overlook all the drama that's been, and usually, takes place in Ann Arbor, the opportunity that Harbaugh has granted to Moore — and to a lesser extent, Hart — is important.

Check this out from a recent report from the Associated Press on how Black offensive coordinators are a rarity in major college football, as this season will only feature 14 Black head coaches out of the 133 programs on the Division I level. Only seven of them fill that role in the Power Five, which includes 69 programs.

"In 2012, about nine percent of FBS coordinators were Black. In 2022, it was still under 10 percent, according to the NCAA.

'I want to make it clear: We don't need to build a pipeline. There is already a pipeline of minority coaches on the offensive side of the ball,' said Raj Kudchadkar, the executive director of the National Coalition of Minority Football Coaches. 'Where we're hitting that blockade is when we get to offensive coordinators.' 
On the other side of the ball, Black coaches have made up more than 20 percent of the defensive coordinators in major college football from 2018-22.

The NCAA identifies any coach with coordinator in his title as a coordinator, which includes run-game or pass-game coordinators, which can inflate the total number of coordinators as well as the percentage who are minorities.

According to the AP's research, 132 coaches hold the title of offensive coordinator or co-coordinator in the FBS heading into this season. Nine are Black (seven percent)."

Despite how Moore is getting an opportunity to coach the No. 2 ranked team in the country, the bottom line is that he's getting a chance — which could only help his odds of becoming a head coach one day. We saw something similar earlier this month when Tennessee Titans head coach Mike Vrabel stepped back and let his defensive line coach Terrell Williams — who's Black — run the show when they faced the Chicago Bears in the preseason.
"I think this is a great opportunity for him and for us and everybody involved …" Vrabel told reporters. "We'll go into the game with things that we think we need to try to get done, and I'm sure he'll try to do that, and I'll help him where need be. But I do think it'll be a great opportunity. (It's) well-deserved. And so, this is something I wanted to do."

When the Titans played the Bears they wound up losing 23-17. No one cared, and fans won't remember — but Terrell Williams will. And when Michigan takes on Bowling Green in a game that ESPN's "Matchup Predictor" is expecting the Wolverines to win by a rate of 98.5 percent, it'll be a forgotten non-conference win on the sport's most winningest program's resume — that Sherrone Moore will always cherish.

Real power is having the ability to let power go. Mike Vrabel and Jim Harbaugh — in a very weird way, under even weirder circumstances — have done that. It's time a lot more (white) head coaches do the same.