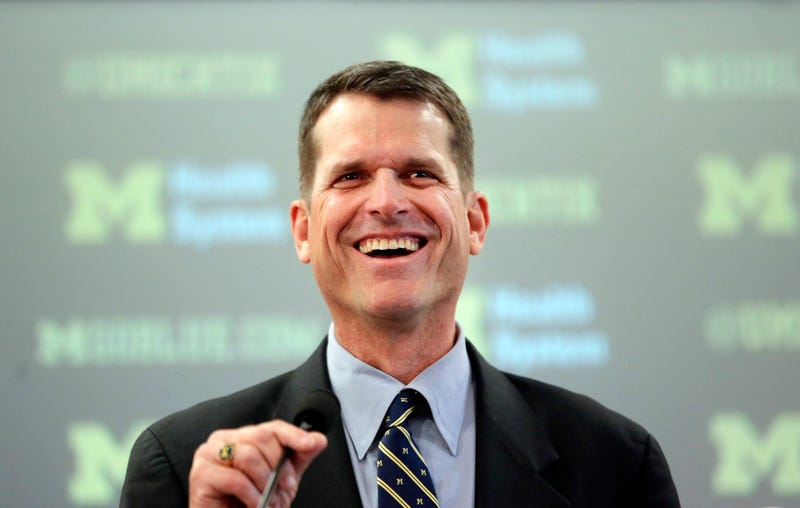 After weeks of pretending this wasn't inevitable, Jim Harbaugh was officially introduced as Michigan's new head coach. Your friends who root for the Wolverines are probably the happiest they've been in years. Even Harbaugh attempted a human smile!
Harbaugh's contract is for seven years with an annual base salary of $5 million, though there are sizable raises after the third and fifth years. He also gets a whole bunch of incentives—these are just the major ones—and a hefty signing bonus. Here are the highlights:
Note especially that last bullet point. If the Michigan man leads his Michigan men to success, he'll be rewarded handsomely.
Harbaugh's official hiring also gave us this incredible lede from John U. Bacon in the Wall Street Journal:
The private jet cut through the clouds and eased onto the airstrip at Detroit Metro Airport, just a few miles from where Charles Lindbergh once tested World War II bombers.

This plane's mission wasn't nearly so serious. But the joy it gave to the people below probably exceeded just about everything since V-J Day.

The jet's cargo happened to be one James Joseph Harbaugh. He's just a football coach, but that day he had done what so many experts said he never would: Leave the bright lights of the NFL for the cornfields of the Big Ten. This decision—mystifying to many NFL followers—explains why the masses might be forgiven if they mistook Harbaugh for their savior.
It's good that everyone's being sensible about this.
Photo: AP