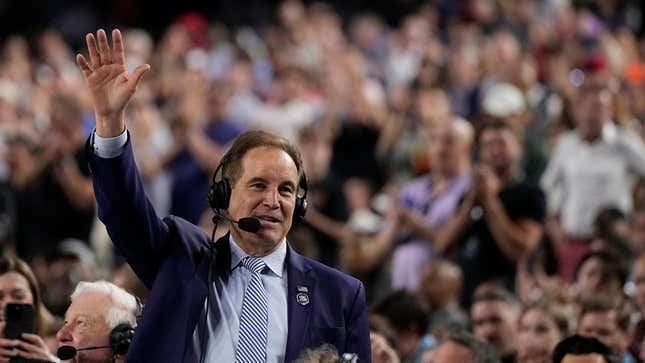 Sportscaster sentimentality is one of the weirdest aspects of the sports world. One of the storylines of Monday night's men's title game was Jim Nantz. The voice of March Madness since literally as long as I can remember delivered his final college basketball broadcast in his hometown of Houston, and signed off with a nod to his trademark catchphrase, saying "Thank you for being my friend."
World Series Stats That Will Blow Your Mind
As far as sentimental sports go, college hoops is pretty far up there. Every tourney ends with "One Shining Moment," and there are always 17 coaches who are sons of coaches crying about what their fathers meant to them. UConn coach Dan Hurley is no exception, but was able to stave off self-parody when Nantz tried to tug at his heartstrings during the trophy presentation.
Maybe when (if) I become a father, I'll know what it feels like to be described as blubbering, but as it stands, those people are, to put it kindly, not for me. So, since we're in agreement on how black my heart is, let's take an objective look specifically at Nantz's sign-off to see if it was milked enough for internet hyperbole or shame.
A little on-the-nose, but solid
Whenever you turn on a big CBS sporting event — be it March Madness, the Masters, or the NFL — the king of the quarter-zip is there to greet you with a "Hello friends." Normally, broadcasters save the catchphrase for in-game action, like Mike Breen's "Bang!" or Ian Eagle's "That's a man's jam!" The latter of those two will be heard in future March Madness title games as Eagle is set to take over lead duties for Nantz.
However, for Jimmy Boy, "Hello friends" is unique because it's universal. It can and is used elsewhere, so as classy as Nantz's last game was, what I'm presupposing is, was it too classy? Jim tried to deflect the attention away from his impending semi-retirement whenever Bill Raferty or Grant Hill brought it up, and even though there was ample opportunity to reflect on his career during a lopsided affair, he remained steadfast until the very final moments.
Perhaps Nantz didn't want to take the victory lap because he's been getting a retirement tour this entire tournament despite, y'know, not retiring. Maybe there is no ego with Nantz, and he truly didn't want it to be about him. The guy threw Tony Romo under the bus for not keeping up with his Sunday game prep, and as co-worker Sam Fels put it, Nantz emitted a vibe of being "just as up his own ass as you probably assumed he was." So take whatever you feel comfortable taking away from that.
I'm not here to drop a hit piece on Nantz though. He's fine, and if you think we're never seeing him during March Madness again, he's part of the Capital One family. Charles Barkley welcomed him to the group like Vin Diesel accruing movie stars for the Fast and Furious franchise, and we will assuredly see the "Nantz Dance" in the future if the 63-year-old is willing to shuck and jive for our amusement and a wheelbarrow full of cash.
I don't have any concerns about how Jimothy will age in the booth alongside Romo. The tandem got paid (not in tandem, but it would be funny if they negotiated as a duo a la Step Brothers), and neither is going to step away from that cushy of a job.
My issue is what does Nantz sign off with when he fully retires? "Thank you for being my friend" is kind of cloying the more I think about it. It implies that you don't have any friends, and I'm almost positive Simple Jack thanks someone for being his friend in Tropic Thunder.
I guess Nantz could reuse TYFBMF if the length of time between goodbyes allows the first utterance to escape our psyche, but as a writer, I hate using the same words twice — and as a cynic, I'm more apt to thank someone for not being my friend.
Does "Goodbye, friends" work? It's simple, it's to the point, and, fuck, I don't know why he didn't use it other than wanting to save it for his final send-off.
So, having said that, and since I don't have a good way to end this… goodbye, friends.