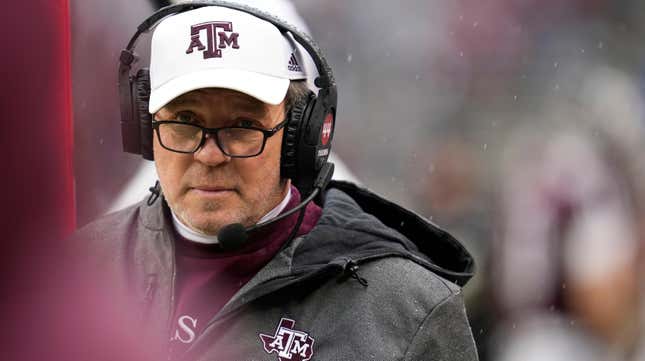 Jimbo Fisher was all in his feelings last year when Nick Saban accused him of buying a top recruiting class with NIL money at a fundraising event. Fisher raised hell in response. He called Saban a narcissist and also said, "If you lied your old man slapped you on the head. Maybe someone should have slapped him on his."
Terry Crews' favorite NFL players
Maybe someone should have slapped Fisher on his head for offensive comments he made at a Texas A&M donor event. In a country — and state — dripping with blood from gun violence, Fisher decided to make a funny while talking about a troubling reason why enjoys a hobby.

"I love to quail hunt," Fisher said to those in attendance at the Dallas A&M Club. "I like to hunt period. I just like to shoot things I guess. I'm glad I don't have a gun at practice sometimes."
Why would Jimbo Fisher brag about liking to shoot things?
Let's momentarily set aside how problematic it is for a 57-year-old white man to make a joke about shooting his majority Black team. Players whose efforts allowed him to sign a 10-year $95 million contract extension in 2021.
The man said out loud "I just like to shoot things I guess." Hunting for him is just live-action Duck Hunt. Maybe he trained a dog to hold up the quails after they hit the ground while he plays the tune of success from the video game on his phone.

I try to avoid kink-shaming in 2023, but that line is disturbing. Life is stressful and sometimes a physical release is necessary. Down your tequila in moderation folks, but I get it. After a five-day workweek, people need to be able to blow off some steam with the shillings they get for their contributions to the world economy.

Hunting is a pastime for some people that I'll never get, but also don't judge. I'm likely going to eat a hamburger today, and the journey for that beef to get from the barn to my belly has to begin somewhere. The quails that Fisher shoots down likely died a much more humane death than the cow that provided my double with cheese.

The fact that Bo Jackson is as accurate with a bow and arrow as he was throwing out Harold Reynolds from right field might be his most impressive athletic trait. Fisher can shoot down all of the quails that he is legally allowed to, but the act of firing a gun is such a delight for him is disturbing.

Fisher didn't talk about using the quail call, or coaxing the birds out of hiding like an opposing defense in its pre-snap shell, he just likes shooting the damn things. Firing lead into flesh and feathers is soothing to the head coach of Texas A&M football.

Back to the race thing. Firearms are the leading cause of death for young people. Firearm fatality rates are at their highest in America in 28 years, with Black men catching the worst of it. Fisher flippantly making a joke about using a gun on a player for dropping a pass, mixing up an audible, or perhaps giving 95 percent effort during an August drill in the Texas sun instead of 100 is tactless, indecent, and offensive.

Guns aren't toys Jimbo. They end the lives of those animals that you get such a rush out of shooting in your free time. Maybe go with a different topic for your next open-mic routine at an event for Texas A&M donors.

One-liners about Saban will always go over well in that room.