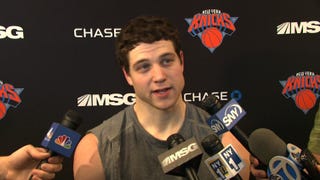 Every morning, the fine folks at Sports Radio Interviews sift through the a.m. drive-time chatter to bring you the best interviews with coaches, players, and personalities across the sports landscape. Today: young Master Fredette knows exactly where he wants to play.
Jimmer Fredette joined The Dan Patrick Show to discuss where he thinks he'll go Thursday in the 2011 NBA Draft, whether he has a preference between playing for the Jazz or the Knicks, what he saw in workouts last year that made him go back to school, his thoughts on his fellow guards in the draft, why he didn't work out with the Bucks, and how he believes he can be a key distributor of the ball and more than just a spot shooter at the next level.
Where will you be playing next year?:
"I literally couldn't tell you. I've heard so many different scenarios. All the mock drafts and everybody has been telling me completely different things. I think I'll possibly land with one of the teams I worked out for. I worked out for five teams and I think I'll land somewhere around there but it's so tough just because you don't know what's going to happen. You don't know who's going to be there once the team is picking and if there's going to be trades. I wish I could tell you."
If I told you you could play for Utah, where you played in college, or the Knicks, your favorite team growing up, what would you choose?:
"That's a tough question. I have great fan bases in both spots and I felt very, very comfortable in both places. They're like a 1A and 1B for me, really. I would love either spot. I know they're my top two choices, but I don't think I could really pick. … I would probably say the Knicks is 1A."
What happened in his workout with the Knicks last year that made him realize he wasn't ready for the NBA?:
"I think the biggest thing was I was just looking for a guarantee from someone and up to that point I didn't get a guarantee from any team that they would pick me in the late first round or early second round. And I talked to Danny Ainge, who was a big help, and also Allan Houston … guys who came back for their senior year and had a great time their senior year, were able to accomplish a lot and increased their draft stock. … They felt like it was probably more sensible for me to have another great year of college, enjoy it as much as I possibly can instead of going into the NBA and possibly being picked in the second round or not even picked."
Do you think teams will be making a mistake if they pick Brandon Knight or Kyrie Irving before you?:
"You know, it's hard to tell. I think that both guards are very, very talented, quick guards that can get into the lane and penetrate. I think that's what the scouts have seen. They have a tremendous upside, can really play basketball and are very, very quick, very fast. … I don't think they can go wrong in picking either one of them."
Why did you decline to work out with the Bucks?:
"I haven't been a huge part of making the schedule. I've talked to my agents a little bit. We felt like it's probably not as good of a fit for me as these other teams. I think a lot of it's that they have a great point guard already, a really young point guard in Brandon Jennings and a guy that they're probably going to build their franchise around. He's worthy of that; he's a very good player. They drafted him high and he's a great player in this league. We felt like it was a better fit for me in terms of these other teams."
After having the green light to shoot whenever he wanted at BYU, is he capable of being a pass-first player?:
"Yeah, definitely. Like I said before, I haven't always been the man on my team. This last year was an exception to where I was a guy that had to distribute the ball but I also had to score at a high volume for us to be successful. My first couple years at BYU, my freshman and sophomore year, I wasn't the guy that was taking all the shots. … We had other guys that were proven and that Coach wanted to get the ball to. … I've been in both roles and that's my plan, to go into the NBA and be able to an impact right away."
This post, written by Eric Schmoldt, appears courtesy of Sports Radio Interviews. For the complete highlights of the interview, as well as audio, click here.
More from Sports Radio Interviews
• Tim Thomas has seen the Boston bandwagon fill up.
• Anger management has been good for Carlos Zambrano.
• Stan Van Gundy thinks the Heat brought everything upon themselves.