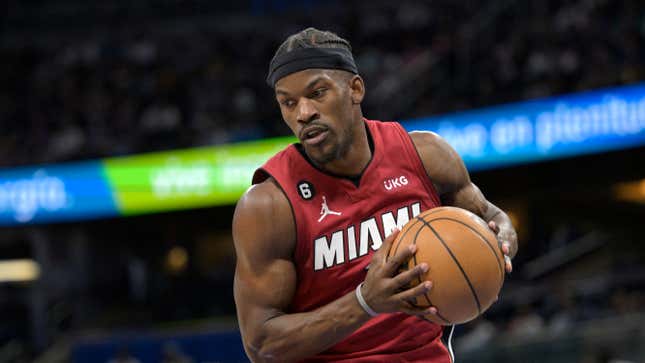 I get it. I totally get why Jimmy Butler reportedly gets under the skin of his teammates. He had a point when he was with the Minnesota Timberwolves. Those young players needed to have enough energy to not get mauled by him at practice. But what happened recently is worthy of the NBA bringing the amnesty clause back just so the Miami Heat can get rid of him immediately. The man subjected his teammates to Nickelback.

Is Steve Nash the greatest Phoenix Sun of all time? | Agree to Disagree
According to ESPN's Nick Friedell, following a loss to the Orlando Magic, Butler cranked up the portable speaker and not only blasted one of the most universally hated bands of all time, but sang every word for nearly 40 minutes.
Butler is known to have eccentric tastes in music. He is a well-known Taylor Swift fan, and he also loves country music. He once appeared in a Luke Bryan music video. Butler is a grown-up and can listen to whatever he wants. His ethnicity would lead some people to make assumptions about the type of music in his headphones like the man didn't grow up in suburban Houston.
The key word though is headphones. Music played out loud is supposed to be pleasing to everyone's palette. It's why, when tasked with ordering pizza for the office, it would be considered rude to order seven Canadian bacon, anchovy, and tofu pizzas with alfredo sauce. That may be your ideal pizza night but the world doesn't revolve around you.
Butler has admitted in the past that his teammates don't like when his playlist gets a run during warmups. These days, as one of the Heat's elder statesmen, he is subjecting his teammates to music that is annoying to people worldwide regardless of their personal preferences.
Nickelback is literally a long way from country music. They are a Canadian rock band. I can tolerate a little Kenny Chesney. The man has sold out football stadiums. But the intimate space of an NBA locker room is polluted with the sounds of "Far Away" and "Rockstar" To do that for 40 minutes is the behavior of a sadist.
Butler was probably grinning so hard that he forgot that Heat had lost to a team in the Victor Wembanyama sweepstakes. Deeply satisfied while watching his teammates in misery, not being able to hear their own thoughts because they are being drowned out by noise that is only slightly less uncomfortable than Canadian winter.
It's time for the Heat to stand up to Butler's bullying. This team was in the NBA Finals three years ago and was a few bounces away from going back in 2022. They are not the Timberwolves of 2018 that had made the playoffs for the first time since 2004, mostly because Butler spent one season on the roster.
Fight back! Bam Adebayo, Tyler Herro, and Udonis Haslem must not let this man intentionally make an already miserable evening downright dreadful. Take the aux cord back! Disable the Bluetooth in the locker room, take a quorum, and institute a policy that fines players who willingly turn on music that annoys their teammates. You all are the Miami Heat. If any team is supposed to stand up to a bully, it's you all. Don't stand by while chaos comes rushing out of the speakers. Bring back order, and respect for your fellow human beings' ear drums.