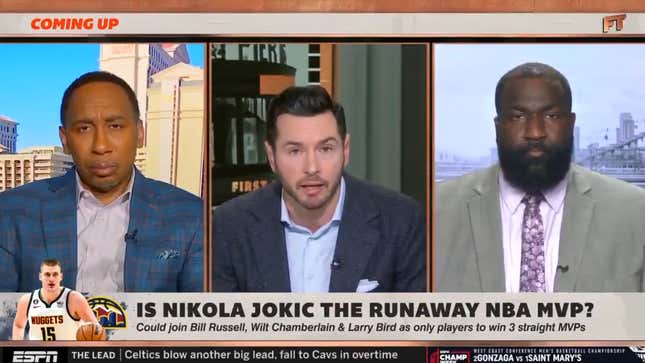 JJ Redick looks like he'd rather be receiving a colonoscopy than embracing the debate on First Take. Redick joined ESPN after retirement, riding the success of his podcast The Old Man and the Three, and initially seemed like an odd fit for First Take. However, the more he strikes a nerve with his co-workers, the larger his footprint has grown on the show. Since his insertion into the First Take lineup, Redick — the former Duke Blue Devil — taking on the debate ombudsman role has become a common theme when their basketball analysis veers into "bad narrative" territory.
2023 NBA Oscars | "And the award goes to..."
On Tuesday's episode, Redick's confrontational style stirred the pot once again during a contentious back-and-forth with fellow analyst Kendrick Perkins. His latest harangue was in response to critical remarks made by Perkins regarding the inconsistent criterion that has positioned Nikola Jokić to become the first player to hoist a third consecutive MVP since Larry Bird accomplished the feat during the Reagan administration. Perkins, a former 16-year pro, implied that Jokić's status in the past three MVP races has been due to the complexion of his skin and Redick took exception to Perkins' assertions.
Redick, the ex-Duke star and poet, used his rebuttal to take Perkins to task and broke the fourth wall by calling out the show itself for the lowest common denominator narratives it pushes.
"What we've just witnessed is the problem with this show. Where we create narratives that do not exist in reality," Redick lamented.
"The implication — what you are implying, that the white voters that vote on NBA are racist. They favor white people. You just said that."
Perkins loudly refuted Redick's interpretation of his comments, shouting, "No, I did not," at the top of his lungs a dozen times and giving the audience tinnitus.
"I stated the facts!" Perkins repeated.
Meanwhile, Stephen A. Smith awkwardly looked away, hopefully contemplating the consequences of the monster he's fed every weekday on live television for the last decade. The segment ended amicably between Perkins and Redick, but their clashes are a pattern now and becoming even more personal.
First of all, Redick's points were valid. Perkins insinuated that Jokić's MVPs could be attributed to his mayonnaise complexion without actually having the conviction to say it out loud. Instead, he alluded to Steve Nash and Larry Bird as two players who shared a commonality with Jokić, then said he'd "leave it to marinate." Quite frankly, Perkins' criticisms of Jokić were off-base. Jokić deserves this year's MVP — even if the first two were questionable — but the yelling match on live television could have happened on a Zoom call before the show. Drama is what feeds the beast though. Redick and Perkins also engaged in a spat on social media last week over Perkins accusing Jokić of stat padding, so this is nothing new to either of them. Perkins wound up deleting his response, but that's probably because First Take producers wanted him to save it for the cameras.
For his part, Redick was hypocritical, because his response to previous Perkins' Twitter tirade was to suggest he call him first. The manner in which he went about it this time is better for ratings though. You either retire a hero or live long enough to see yourself become the villain. Redick and the ESPN personalities he's declared war on are becoming more of a hivemind. The objective is to drive eyeballs to the show. Come for the debate, stay for the pileups.
Maybe Redick would be more content floating between SportsCenter slots as a television vagabond like Tim Legler or clocking in for NBA Today duty. Maybe he'd ruin the good vibes they have over on the NBA Today desk, but there's gotta be some way to derive more enthusiasm out of talking hoops than we're getting from him on First Take.