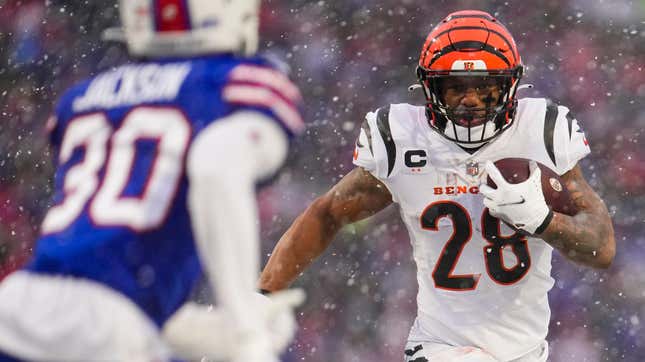 An arrest warrant was issued Thursday for Cincinnati Bengals running back Joe Mixon for allegedly pointing a gun at a woman in downtown Cincinnati last month.

Who wins the Super Bowl next year?
Mixon's agent Peter Schaffer said he expects the charges to be dropped, saying it's a rush to judgment, and for what it's worth Mixon's mom also said her son didn't do it.
Updated: A Hamilton County judge has dismissed the menacing charges against Joe Mixon.
"I really feel that police have an obligation before they file charges — because of the damage that can be done to the person's reputation — to do their work," Schaffer said in a statement prior to the charge being dropped.

The full details of this latest alleged incident haven't been released yet, but what has been discovered so far isn't great.

The warrant, obtained by WCPO's Evan Millward, states that Mixon pointed a gun at a woman and said, "You should be popped in the face, I should shoot you, the police [can't] get me."
This allegedly happened Jan. 21, a day before the Bengals' playoff game against the Buffalo Bills. Cincy won
The team has opened up an investigation, and the NFL is already dealing with another situation regarding Philadelphia Eagles reserve lineman Josh Sills.
"The club is investigating the situation and will not comment further at this time," a Bengals spokesperson said in a statement Thursday.
Mixon's record of violence toward women
Mixon was a highly touted recruit coming out of high school, and one of the gems of the Sooners' freshman class of 2014. However, before he even played a down in Norman, a video surfaced of him punching Amelia Molitor, breaking her jaw and cheekbone, after a disagreement at a restaurant.
It resulted in him being sat down for his entire freshman year, and justifiably dropped his draft stock once he declared for the NFL following the 2016 season. He eventually settled with Molitor before going pro.