Penn State honored Joe Paterno, the former football coach who knowingly harbored serial child rapist Jerry Sandusky on his coaching staff for 33 years, multiple times throughout the first half of today's football game between the Nittany Lions and Temple. A bevy of tributes and monuments constructed by Penn State fans preceded and followed the festivities.
Jokic? Embiid? The NBA MVP is obvious... right? | Keep it a Buck(et)
Paterno faithfuls' tone deafness should not be surprising; selective memory crops up more often with sports figures, even those connected to decades of young children being sexually absued. The legacy of Paterno-coached teams' on-field and academic success is a history folks in Happy Valley have struggled to digest as being less important than his continued employment of rapist Jerry Sandusky, a fact made clear in a student-focused piece in the New York Times. While alumni continue to berate student journalists who oppose the tributes, university officials in charge of today's events declined to comment on their decision to honor the disgraced coach—this after they attempted to slide the Paterno Day bullshit past fans and the media all together by sticking it between "Stripe Out Day" and a dance marathon on their promotions page.
G/O Media may get a commission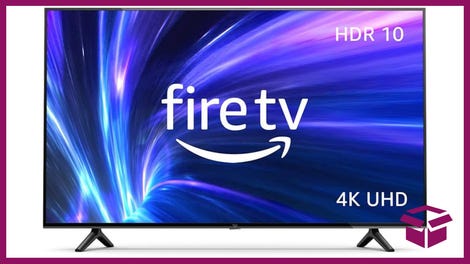 42% Off
Amazon Fire TV 50" 4K Smart TV
Penn State first honored Paterno through a video meant to highlight his focus on creating an academically successful program, which you can view in full below via PennLive:
The university also aired a video honoring Paterno's 1966 team, with 24 members of the team standing at midfield while the video showed highlights from the season. Mike Irwin and John Runnells, co-captains of that year's squad, participated in the game's coin toss.
The fan-made tributes displayed a wide range of idiocy, ranging from the expected collection of flowers and bricks at the spot of Paterno's since-removed statue to a billboard calling for its return by using a Martin Luther King, Jr. quote, though they aren't the first ones to use King's name foolishly this week.
Not every spectator went about the game complying with the school-imposed honoring of Paterno. A contingent of Temple fans in the nosebleeds opted to turn their back each time Paterno's face was shown on the billboard, flying a sign reading, "He Turned His Back We'll Turn Ours." Yahoo Sports's Eric Adelson reports the fans resisted when security attempted to confiscate the sign.