A few years ago, Joe Paterno and Penn State, facing an open-records lawsuit from reporter Jan Murphy and the Patriot-News, fought like crazy to prevent salary information about university employees from becoming public. Murphy and the paper won a court ruling only to see Paterno et al. appeal the decision to Pennsylvania's Supreme Court, which in 2007 affirmed the lower court's decision. Two years later, Pennsylvania passed the Right to Know Law, which forces Penn State to report some salary information, including how much Paterno and his "bosses" make. Below is the compensation breakdown from the latest report (click to enlarge; the full report is at bottom).
Paterno makes a total of $1,022,794. President Graham Spanier makes $813,855. What do these numbers tell us, aside from the fact that Paterno is probably underpaid by the cock-eyed standards of big-time college football? They point to the power dynamic at Penn State. And let's not kid anyone—that dynamic is a big reason it took so long for the Sandusky horrors to surface.
All you have to do is look at the salaries. Penn State is only required to report the figures for state officials and its highest-paid employees. Which is why you won't find on the list Paterno's presumptive immediate superior, Tim Curley, the man to whom Paterno relayed his graduate assistant's now-infamous eyewitness account and thus apparently met the minimum standard needed to wriggle free of any legal liability. Of course, Curley is not Paterno's boss in any meaningful sense of the word. Don't believe me? Take a gander at this story from the Pittsburgh Post-Gazette. It includes a scene in which Spanier and Curley showed up at Paterno's house in 2004 in an unsuccessful attempt to force him out as coach:
Paterno's doorbell rang Nov. 21, 2004—a Sunday—only one sunrise separating the coach from the conclusion of a 4-7 football season. Four high-ranking Penn State officials, including university president Graham Spanier and athletic director Tim Curley, walked into Paterno's home and told him, for the second time in less than two weeks, that they wished him to stop coaching, either at that minute or very soon.

Curley, Spanier and the others arrived with a message they had heard from many. The 2004 season convinced legions that Paterno was instinctively driving his program to its grave. For the first time, folks spotted the coach's sincere, growling confidence and figured it the root of his decay.

[...]

The four men who arranged the meeting with Paterno spoke first.

Recalled Paterno during a recent interview: "The direction they wanted to take was, 'Maybe it's time to go, Joe. You ought to think about getting out of it.' I had not intended to discuss that with them, because I felt I would know when to get out of it." (In describing the meeting, Paterno refused to identify the school administrators, saying "it wouldn't be fair to them.")

So Paterno, speaking to the four school officials only briefly that day, stressed several things. He refused to quit. He hoped to prevent Penn State from imitating Nebraska, a program that in 2003 fired head coach Frank Solich despite a 10-3 season. He shared his observations: that Penn State needed only two or three blue-chip recruits to swing its fortune in time for 2005 season; that he wished to keep his staff together; that the Lions were close to a special year.

"That's all I said to them," Paterno said. "They didn't quite understand where I was coming from or what it took to get a football program going. ... I said, 'Relax. Get off my backside.' "
G/O Media may get a commission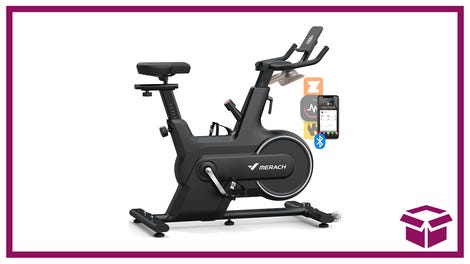 14% off + Coupon
Merach Indoor Cycling Bike
OK! The coach, at least, has one thing going for him now. According to the lawsuit I cited at the top of the post, he'll be eligible upon retirement to collect benefits through the Commonwealth of Pennsylvania's retirement plan. Paterno is eligible to collect this Commonwealth pension even though he is an employee of what we learned earlier today is a non-Commonwealth agency. That's a boss, people.