So, everybody, is Joe Torre a racist? You certainly might have thought so watching the Sunday night game last evening.
Just to remind, Sheffield told Andrea Kremer on HBO's "Real Sports" (a.k.a., "What The HELL Happened To Frank Deford?"):
"I know when I was there, the couple of blacks that were there, every one of them had an issue with the organization. They had an issue with Joe Torre. They weren't treated like everybody else. I got called out in a couple of meetings that I thought were unfair."
Later in the same interview, Sheffield came with this nugget of wisdom: "Steroids are something you shoot in your butt." Someone alert Tim Hardaway!
Anyway, Sheffield isn't exactly renowned for his restraint, so basically calling out the entire Yankees organization for being racist should probably be taken with a large grain of sodium. But then Kenny Lofton — a guy so popular he's played for 11 teams in 16 years — chimes in saying, "Gary knows what he's talking about," and suddenly, we've got a scandal. We're sorry, a "scandal."
G/O Media may get a commission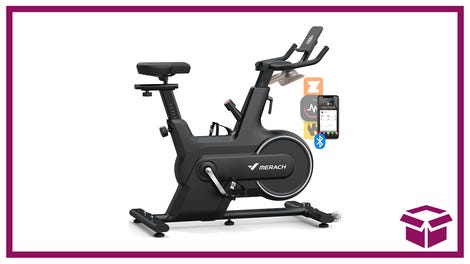 14% off + Coupon
Merach Indoor Cycling Bike
Torre remains mum on the whole issue, and so far, his only character witness has been Darryl Strawberry, for whatever that's worth. (Derek Jeter, being "only half black," probably can't help either.) During last night's ESPN broadcast, Joe Morgan surprisingly refused to come to Torre's defense, saying, "you really have to be a member of the team to understand what goes on in the clubhouse." The whole telecast — which is pretty much the weekly mass for The Baseball Establishment" — played up the "scandal" more than you might have expected; one would think calling out a baseball legend as a pseudo-racist would require a more stable witness than Gary Sheffield.
That said, we're going to enjoy this; any organization that, according to Sheffield, treats Jason Giambi "like a man" is bound to have countless more skeletons in their closet. Does Torre hate Japanese players too? We hope the Yankees don't sign any Eskimos.
As you'd suspect, The Nation Of Islam Sports Blog has plenty to say about this.