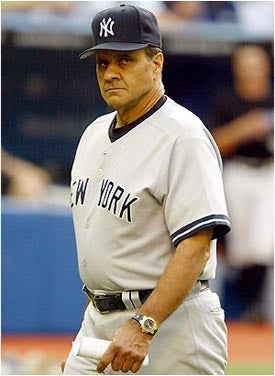 Some might say the Joe Torre business in Tampa involving the Yankees yesterday is a sign of organizational chaos, but, frankly, this seems like the way it probably had to go down all along. (Some even saw it coming.)
At his postgame press conference after the Game 4 loss, Torre looked like a man at peace with the fact that he wasn't going to manage the Yankees anymore. And the Yankees looked like a team that couldn't exactly keep matters the way they were going. So everybody gets to save face. Torre gets to walk away, head high. The Yankees get to pretend they wanted Torre to come back, and even though no one believes them, they at least have talking points to follow.
An era ends, but it was probably time. We can all move on with our lives now. And by "move on with our lives," we mean "strap in for around-the-clock A-Rod coverage." Are you prepared for the Yankees leading "SportsCenter" over Game 5 of the World Series? Get ready.
So Who's In Charge Here? [The LoHud Yankees Blog]