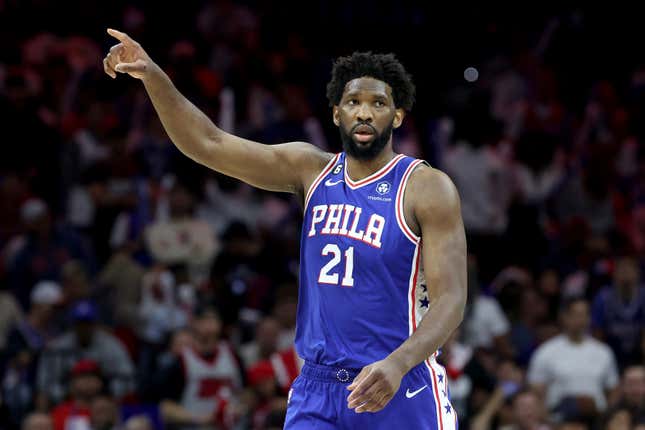 The Philadelphia 76ers have advanced to the Eastern Conference semifinals in five of the last six postseasons. During the Joel Embiid era, that has been their ceiling chasing that ever-elusive Eastern Conference Finals appearance, which the franchise hasn't been featured in since 2001. Pressure continues to mount as MVP Joel Embiid gets older, and the team isn't any closer to winning a championship than they were six years ago. Embiid's recent comments about wanting to win that championship came with a plot twist no one in Philly wants to hear.

"I just want to win a championship. Whatever it takes. I don't know where that's gonna be. Whether it's in Philly or anywhere else. I just want to have a chance."
After years of talking about how he'd been overlooked, Embiid finally won league MVP honors in '23. Now it seems he's attempting to speak it into existence in terms of winning a title. But it's the part about not knowing where it will happen that really catches one's attention. The Sixers have come close to getting over that second-round playoff hump, but Embiid and crew can't seem to put it all together.
While Philly's front office should be worried by these comments, their star center does have multiple years remaining on his current deal. Of course, being a star NBA player, Joel "The Troll" could always force a trade, but that doesn't seem to be on the table just yet. However, his words should serve as a warning to Sixers President of Basketball Operations, Daryl Morey, and General Manager Elton Brand.
That's not to say Embiid isn't without fault. He simply hasn't been able to get the job done in some of the biggest moments over the past few years. In game seven of the eastern semifinals, Embiid shot less than 28 percent from the field with a -28 +/- that game. That type of underwhelming performance in the biggest game of the season isn't getting it done. We talk about James Harden not being what he once was until we're blue in the face. Harden isn't the superstar on this team, Embiid is, and he's got to show up in those moments if Philadelphia is going to win a championship.
Philly can add the best supporting cast around Embiid, but ultimately, their success over the next few years falls on his shoulders. Whether Harden stays or goes, Embiid is the man for the time being, and it's time for him to step up when it really counts. Making comments via media outlets has its place, but Embiid must also take accountability for the organization's failures during his tenure.