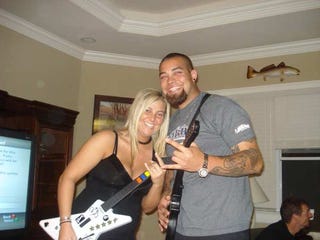 You may remember, from a year and a half ago, Tigers pitcher Joel Zumaya being injured because of his addiction to Guitar Hero. (It happens. We understand.) Well, Zumaya, who is out until midseason, apparently has not lost the jones, as this recent Facebook picture attests.
You can find a couple more here and here.
We have discovered the secret of Detroit's struggling bullpen. Dammit, guys, this is not considered rehab!
Joel Zumaya Puts His Life In Rock's Hands [Deadspin]