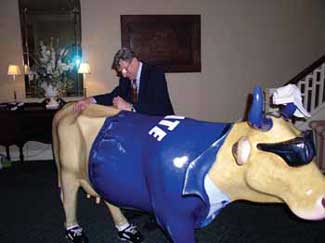 We love Joe Paterno. Whereas many coaches would discipline their players for a campus fight by suspending them or — more likely — not doing anything at all, the Penn State legend is forcing them to clean the inside of the stadium.
He said he will have his entire team help clean up Beaver Stadium every Sunday after home games this season — a task usually taken on for pay by PSU club sport athletes who use the money to fund their teams. This fall, according to Paterno, they won't have to do it; his guys will. And the money will still funnel to club sport coffers:

"We're all going to do it. Everybody. Not just the kids that were involved. 'Cause we're all in it together. This is a team embarrassment. I wouldn't call it anything much other than that."
We find this idea incredibly charming; we suspect cleaning up Beaver Stadium after a football Saturday is actually a rather grueling endeavor. Let this be a lesson, young players: When you misbehave, you'll find yourself scraping gum off the bottom of the upper tier section before you know it. Oh, and run some laps, whippersnapper.
Paterno Tells Players To Clean Up [PennLive.com]