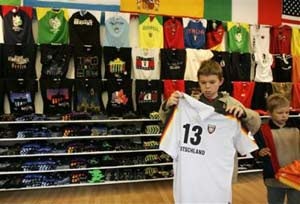 What's a self-respecting sporting event without a pool? It's NOTHING, we tell you. Henceforth, we cordially invite you to join us in the World Cup Pants Party Deadspin Pool. (We're using ESPN's fantasy game format, because, well, they have the best one. Hard to deny that.) Anyway, come on in and sign up. The winner of our pool will receive the classic Deadspin prize package of:
• Copy of Family And Other Accidents

• Copy of Life As A Loser or Catch, your choice.

• A free post on Deadspin, with which to write whatever you deem fit.
So, join in. It'll be fun. By the way, looks like the Armed Forces Network won't be carrying any World Cup games. Boo! Active servicemembers will have to "rely on host nation coverage." We're pretty curious which games they're showing in Iraq, actually.
Deadspin World Cup Pants Party Pool [ESPN Games]

AFN Denied Broadcast Rights For World Cup [Stars and Stripes]