The Boston Marathon bombings have had a particular resonance for Phillies closer Jonathan Papelbon, who spent seven seasons with the Red Sox and says he once lived above the spot where one of the bombs detonated. Papelbon is rightly concerned about security at open gatherings in the wake of the attacks, and his worries include the Phillies' annual tradition of parading through the concourse area and the outfield stands on Opening Day.
The 700 Level has video of part of the interview Papelbon gave about this, which included the following remarks:
"I don't feel comfortable doing that," Papelbon said. "I really, truly don't. In today's day and age, it's gotten so crazy… everything. All this stuff going on. Shoot, man, Obama wants to take our guns from us and everything. You got this kind of stuff going on. It's a little bit insane for me. I don't really know how to take it."
Having translated that from the original Papelbonese, I don't think he's equating the tragedy of the marathon bombings with the specter of half-a-loaf gun-control legislation, which would be silly. I think he's saying that, with all this "insane" stuff going on, he'd prefer that our president not take all our guns away, which is just a different species of silly. (No one's coming for your guns, Paps.) Mark this down, though, as the first time in recorded history that someone declared that he'd feel safer among Philadelphia sports fans if there were more guns around.
Photo: Getty
G/O Media may get a commission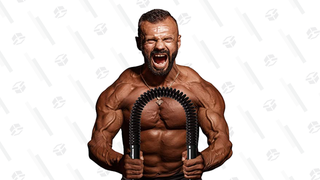 10% off
Zenooze Boa Power Twister