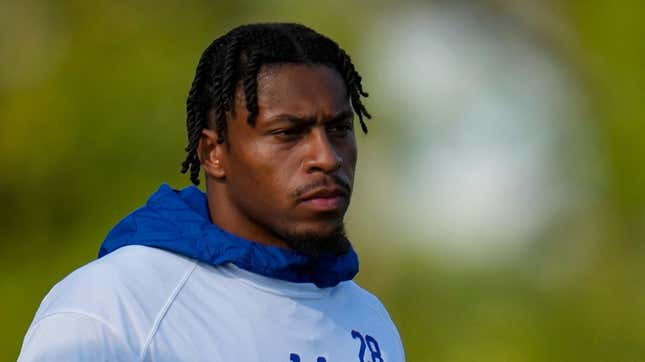 If you were hoping the NFL would deliver a satisfying conclusion to the Colts' Jonathan Taylor debacle before the regular season, think again. After all the reports and swirling rumors, it turns out the Dolphins and Colts couldn't get beyond small talk. On Tuesday, Adam Schefter reported that the disgruntled running back will remain a Colt for the foreseeable future after the organization failed to find a fair value trade package for their 24-year-old franchise back.
Are Tua and Tyreek the best duo in the NFL? | Agree to Disagree
Unfortunately, this also means one of the longest, most headache-inducing sagas of the NFL off-season will continue well into September. If there were a league-wide NFL script, Taylor's offseason storyline would leave audiences the most frustrated. Irsay and Taylor could have left all the exposition that got them here on the cutting room floor. Ultimately, Taylor's strife with Indy could last longer than the writer's strike.
However, don't mistake the Dolphins and Colts' inability to reach a trade agreement this week as a peace treaty with Taylor. By effectively declining to remove Taylor from the Physically Unable to Perform list before Tuesday's deadline, Indianapolis ensured their war against Taylor will continue into the regular season.
The Dolphins still make the most sense. While Indianapolis is grooming a quarterback, head coach Mike McDaniels indicated during the off-season that his offense would have a renewed focus on the running attack in year two. As permanent quarterback of the NFL's fastest flag football team, Tagovailoa was often a sitting duck behind an offensive line which left him unprotected. Presumably, a more balanced attack would alleviate some of the heavy workload placed on Tua Tagovailoa's shoulders.
In 2022, the Dolphins leaned on former Niners backs Mostert and Jeff Wilson. However, the overreliance on airing it out deep to Tyreek Hill and Jaylen Waddle put Tagovailoa in peril behind a gaunt offensive line. Tagovailoa was one of the most pressured signal callers in the league last season behind a giant offensive line and he paid the price multiple times.
As for Miami, the preseason addition of Taylor would have made Mike McDaniels' South Beach Diet offense even more box office by supplying a missing physical dimension. Raheem Mostert and 187-pound rookie Devone Achane are two of the fastest ball carriers in the entire NFL, but neither instills fear in the defensive front.
One of the factors holding up any possible deal for Taylor revolved around him proving he would be healthy enough to tote the rock in 2023. In January, Taylor went under the knife for an arthroscopic debridement to clean out his right ankle. The recovery period for such a surgery typically carries a 2 to 4 week recovery period, which should have ended months ago.
Taylor's presence on the PUP list made quality offers even harder to come by and complicating matters even further is Taylor scorching earth for a contract extension. Not to mention that NFL offenses are in an arms race, they aren't clamoring for well-compensated running backs. midseason trade is more likely than a reconciliation at this point. Last October, the Niners acquired Christian McCaffrey in a deal that served as their midseason revamp.
Now Taylor will miss at least the first four weeks of the regular season and even then he'll have to demonstrate a return to form. Buckle up. This could get even messier.

Follow DJ Dunson on X: @cerebralsportex