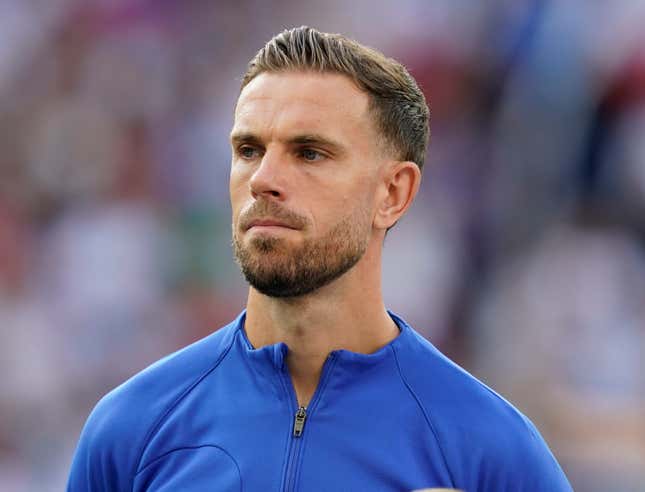 It's my fault. I know better than to buy into it, but being so cynical, and assuming that every athlete that seems like he's above the usual morass isn't much of a way to live. I wanted to believe in Jordan Henderson, and still do in a lot of ways.
Can Liverpool Win The Quadruple? | What You Need To Know | FA Cup
It was more than Henderson being Liverpool's captain, my favorite team in any sport, during its most successful era of the entire time I've been a fan. Henderson lifted the European Cup, the Premier League trophy, the FA Cup, the League Cup, and we'll even throw in the Club World Cup too because hey, it was fun at the time. The "Henderson Shuffle" signals some of the happiest times I've had.
It wasn't just that Henderson went from something of a laughingstock after Liverpool bought him from Sunderland, whom Alex Ferguson criticized for his running style, to become a superlative midfielder under Jürgen Klopp who could do shit like this:
It wasn't even completed by him clearly being the emotional heartbeat of the team, his constant energy pushing the team to play the heavy metal football Klopp demanded and his unhinged roar whenever he scored, or when Liverpool won. He was Klopp's Liverpool distilled into one player, with constant frantic motion, and energy yet capable of moments of art at any time.

It was all of that, but it was also, at least it felt, that Henderson took the responsibility of being the captain of one of the biggest clubs in the world, and the visibility that comes with it seriously, and as a platform. This was what he had to say right before last year's World Cup as FIFA banned the rainbow armband for captains to show support for the LGBTQ+ community in Qatar, a country that makes it illegal to be in that community:
"This is always an occasion that makes me especially proud to be club captain because I could not be stronger in my belief that the values we are celebrating — unity, togetherness, inclusion — could not be more in keeping with those of our club and our city.
"I have regularly worn rainbow laces and today will be no exception because this kind of visible support can only have a positive impact. It also sends the powerful message that football is for everyone and the more of us who can take this message back into our homes, workplaces, and daily lives the better.
"The more we can understand, the more we can learn, and the more we can stand together on issues like this, the more we will move towards the kind of inclusive society that is more welcoming of everyone.
"Football has its part to play and, as I said, I couldn't be more proud to play a small part of my own."
In 2019, when the Premier League started the Rainbow Laces campaign, this was Henderson:
"This campaign is important if there are still supporters out there who don't feel they can be themselves or, even worse, have to hide who they are for fear of getting abused, or being discriminated against. I'm a parent, a husband, a son and a brother and the idea that anyone I love, and care about wouldn't feel safe or comfortable coming to watch me play if they were part of the LGBT community makes me wonder what world we live in."
Henderson also gathered all the other Premier League captains together at the start of the pandemic to start the "Players Together" campaign to aid a straining NHS. He genuinely seemed different.
And maybe he still is, and all those things he said, and did still live. But then the past week happened, and the PIF of Saudi Arabia promised to double the salary he was making at Liverpool, and suddenly all those things he said in support of the LGBTQ+ community didn't quite matter as much when taking the money from a government that bans homosexuality. Punishes it by death, even. Caoimhe O'Neal of The Athletic documented how she was personally hurt by seeing a player she thought stood up for her in a world that isn't always hospitable to the Queer community.
You can explain it away if you want. At 33, this is Henderson's last big contract, and no one anywhere other than the Saudi League is going to pay him somewhere around nearly $25 million a year. I've never been offered $25 million a year, neither have you, and it's obviously easy to sit here from my beer-stained couch to say I wouldn't take it from the Saudi PIF. But none of us know that. But then, I also haven't banked the millions upon millions that Henderson already has, either. How much is enough, really?
On a soccer level, it's dispiriting that a player that showed such spirit and fight decided to move on before the first season that would have seen his playing time reduced instead of carving out a role, especially as captain. He made all the right noise that Liverpool's midfield makeover, which has already seen them purchase Alexis Mac Allister, and Dominik Szoboszlai, wouldn't daunt him from working to still be a major cog of the team. And he still would have been a big part of Liverpool next season and still had a major role as club captain. That lasted one week until he got a whiff of Saudi blood money.
But it's obviously so much more on that. Henderson not only wanted us to see him as more than just a player but did things to back it up. And then he went back on it, because he had a price. There were things more important than that, there are things more important than that, and yet here we are.
Henderson won't get the Anfield send-off that he had earned. The fans won't say goodbye. But considering the awkward, at best, circumstances, maybe that's for the best. This kind of disappointment is probably best done in the background.
---
Anyway, to lighter stuff. At least you had a better day than whoever runs the Rockies scoreboard:
(Yes, we're aware this is a recurring bit at Coors Field, but let's all play along)
---
Jhon Dhuran came in last night to close out a win for the Twins over the Mariners, throwing 104 MPH consistently. And yet I think the most impressive thing about this clip is Eugenio Suarez somehow pulling the ball:
Follow Sam on Twitter @Felsgate and on BlueSky @Felsgate.bsky.social