With opening day in Major League Baseball upon us, there's no better time to remember baseball's heroes of yesteryear. Such nostalgia shouldn't only extend to past eras of MLB but also to those who paved the way in the Negro Leagues for players of color to make their way into the Majors. One of those influential names from the past is Josh Gibson.
The all-time great slugger is viewed as one of the best power hitters of his era in the Negro Leagues. Gibson played from 1930-1946 in the Negro Leagues and Independent baseball, hitting almost 800 home runs. Based on current MLB standards, Gibson would certainly stand among the greatest hitters to ever play the game.
Sean Gibson is the great-grandson of Josh and serves as the executive director of the Josh Gibson Foundation. He spoke with Deadspin about his great grandfather's legacy, the Josh Gibson Foundation, and the importance of remembering the contributions of those who played in the Negro Leagues before Blacks and other players of color were allowed to play alongside their white counterparts.
The mission
"My grandfather, Josh Gibson Jr., actually started the foundation. And the whole mission, originally behind the foundation, was really to preserve his father's legacy," Gibson explains. "And he came up with a way by using these tools of having programs for inner city youth to help provide education, after-school programs, athletic programs by help raising money through the name of Josh Gibson. So, I've been with the foundation since its existence, and I've been the executive director since then."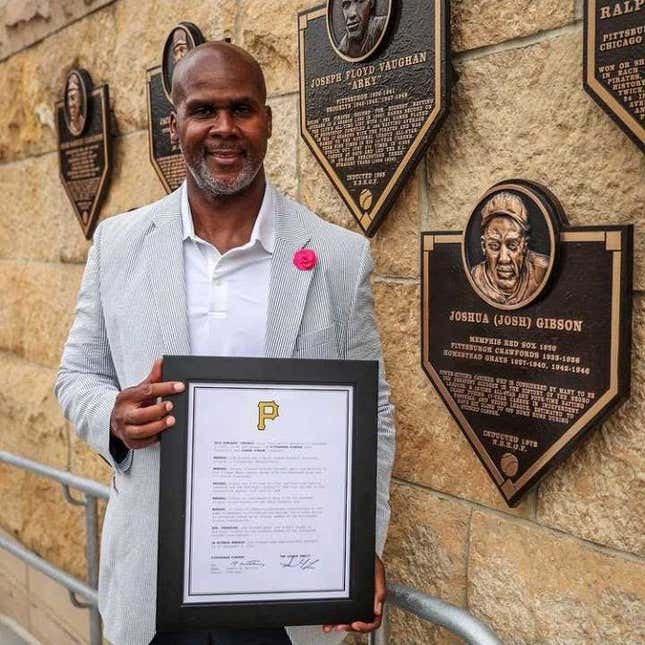 There's much to be learned from the history and memory of the Negro Leagues, and Sean and the foundation are doing their part, especially in the Pittsburgh area, in sharing this rich legacy. The Josh Gibson Foundation provides multiple educational, mentorship, and even an internship program for the community.
In December 2020, MLB Commissioner Rob Manfred announced that the Negro Leagues would be recognized by MLB and included within the historical record books of Major League Baseball. This meant that the 3,400 players who suited up in the Negro Leagues from 1920-48 would have their accomplishments and statistics held in the same regard as all Major Leaguers. That announcement by Manfred was significant, but the follow-through on the plan has been less than encouraging.
Big changes still need to be made
"Major League Baseball official bookkeeping records are through Elias. If you go into Elias website, you will not see any Negro League baseball players included into their record books. Now, Baseball Reference, who has no affiliation with MLB, of course, they have their records updated with Negro League stats. But as of right now, almost three years later, the announcement was made, and nothing has happened since then."
Obviously, with an announcement of that magnitude, you'd expect the Josh Gibson Foundation to have a much better or more involved relationship with MLB, which has not been the case. Sean hopes to improve that relationship with MLB and the Commissioner's office, and he has an upcoming meeting with MLB in mid-April.
"We have a small relationship with Major League Baseball, we'll call it. Of course, we would like it to be more involved. We do work with Pat Courtney out of the Commissioner's office. They've supported some of our programs, some of our events, things of that nature.

"But the meeting I've got coming up is also dealing with how they can partner with not only the Josh Gibson foundation, but we just created and started the Negro Leagues Family Alliance. And what that is, is several descendants of former baseball players that come together to be one voice. And so, one of our main initiatives is we would like to one day have Negro Leagues day. We understand we have a Jackie Robinson day, and we love that. But we'd like to have a day where we can celebrate all the Negro League baseball players throughout Major League Baseball. And we would like to have that on May 2nd. And the reason why is because May 2nd, 1920, was the first Negro League game."

"So, we also would like to talk to them about that, and maybe some of the things about licensing and more so how we can be an official partner of Major League Baseball, which we are not an official partner. That's our goal to be an official partner of Major League Baseball."
In news that might be surprising to casual fans, Josh Gibson Foundation and the Negro Leagues Family Alliance have no affiliation with the Negro Leagues Museum. Sean and his group have pushed for it, making little progress in that mission over the years.
The lack of relationship with the Negro Leagues Museum
"You asked, how come the Negro Leagues Baseball Museum is not involved? Well, you have to ask Bob Kendrick about that. We've reached out to Bob Kendrick several times," Sean said. "We talked to Bob at least two or three times. The last time we spoke to Bob was August or maybe later, he was supposed to get back to us...but he never got back to us.
"So, you know me personally, and I'm not speaking for the Alliance. I'm speaking as Josh Gibson's family," Sean continued. "We don't feel as though the museum wants to work with us or want to work with the Alliance. Like I said, I'm not speaking for the group; I'm speaking for myself, the Josh Gibson family. And, you know, there's been several opportunities that the museum could've worked with us, but nothing has ever happened. But to answer why, I can speculate why, but I rather have you hear the facts. That's something you have to ask Bob Kendrick about."
Bob Kendrick is the President of the Negro League Baseball Museum (NLBM), holding that position since 2011. The museum was founded in 1990 to celebrate and preserve the history of African American baseball and its positive impact on social development in America. Deadspin reached out to Kendrick for comment, and he told us the following:
"Neither Sean nor his family has ever approached the museum on any specific relationship or partnership opportunity. He has never picked up the phone to call me about any initiative. I've met with the Family Alliance on multiple occasions. The NLBM continues to create licensing opportunities for his family as well as those involved with the Alliance. They sought a non-binding formal relationship, and I'm not sure that's necessary for us to support the Family Alliance's mission. But it is something we're still exploring in terms of structure. Not sure why Sean is spewing this kind of venom with the exception that if the NLBM doesn't do what he thinks we should do, then we're at fault."
The NLBM remains committed to doing everything we can to grow recognition for this history, which benefits the Family Alliance and the many other families who aren't part of this Alliance."
The families are still waiting
In remembering and honoring these Negro League legends, Gibson always acknowledges and pays homage as he made sure to shout out some of the players represented by family members who belong to the Alliance. Rube Foster, who, as Sean put it, is the "father of Negro Leagues baseball." Walter "Buck" Leonard, Ted "Double Duty" Radcliffe, Norman Thomas "Turkey" Stearnes, and Pete Hill, to name a few. Gibson and Leonard were known as the "Thunder Twins" for their power-hitting prowess while playing for the Homestead Grays. Currently, there's a beer campaign running in their honor, with proceeds going to Gibson and Leonard's foundations. These legends helped lay the foundation, making it possible for Jackie Robinson to do what he did in crossing the color line with the Dodgers in 1947.
Once the Negro League players and their stats are officially part of MLB, Gibson knows there will be a lot of conversation around them being included because many players will be ranked toward the top of many of baseball's statistical categories, including Sean's great-grandfather.
"I mean, it's been a while. So, you know, like I said, I'm hoping that this will be done soon, where we can actually have a conversation, because, you know, once this actually happens, there's gonna be a lot of conversation because these Negro league baseball players are going to be, in some pretty high categories. I mean, Josh, he will be in some of the top categories and stats, he will be up there in the top five, top two. Not just Josh, other players as well. So, believe me, you'll know when it comes out."
While the official integration of Negro League stats into Major League Baseball's record books is still on the horizon, remembering the men who came before is the duty not only of Major League Baseball, but its fans, as well.